LED lights that never need to be plugged in
Many people are looking for lights that don't need to be plugged in.
There are a lot of options to choose from.
The best way to figure out what type of lights you want is by figuring out how they will be used and where they are going to go in your house or where ever you are wanting to use them.
One of the most common types is battery-operated LEDs that run on AA or AAA batteries.
Another type is solar LED lights where you'll need to place the solar panel outside, however, they don't require any upkeep from then on.
So there are a lot of LED types that don't need to be plugged in and the good thing about LED lights is that the color can be changed and they last for a long time, so you don't need to worry about changing bulbs.
These battery-operated led lights provide this opportunity without the hassle of having an electrician come to your home and install them.
This article will take a look at LED lights that don't need to be plugged in, as well as what other benefits these battery-operated LED lights offer!
Are there wireless LED lights?
Today you can find wireless LED lights that can be powered by battery or solar power.
They usually come with remote control and are perfect for people who don't want to worry about where their cords will reach but still need lighting in the home.
Battery-operated lights may also be more portable than wired versions of these lights, which is great if you're looking for a light source for camping or something else outside the home.
These are great for people who love a certain look but can't find the perfect light fixture, or want something with easy installation and low maintenance requirements.
You may also like these if you're fixing up an old place and trying to preserve its old style and don't want to deal with any wiring.
Wireless LEDs are also a great option if you're looking for something that's easy on the environment and won't leave your home feeling cluttered from all of those wires hanging around.
There are many different types available, so it should be fairly simple to find one that meets your needs and tastes.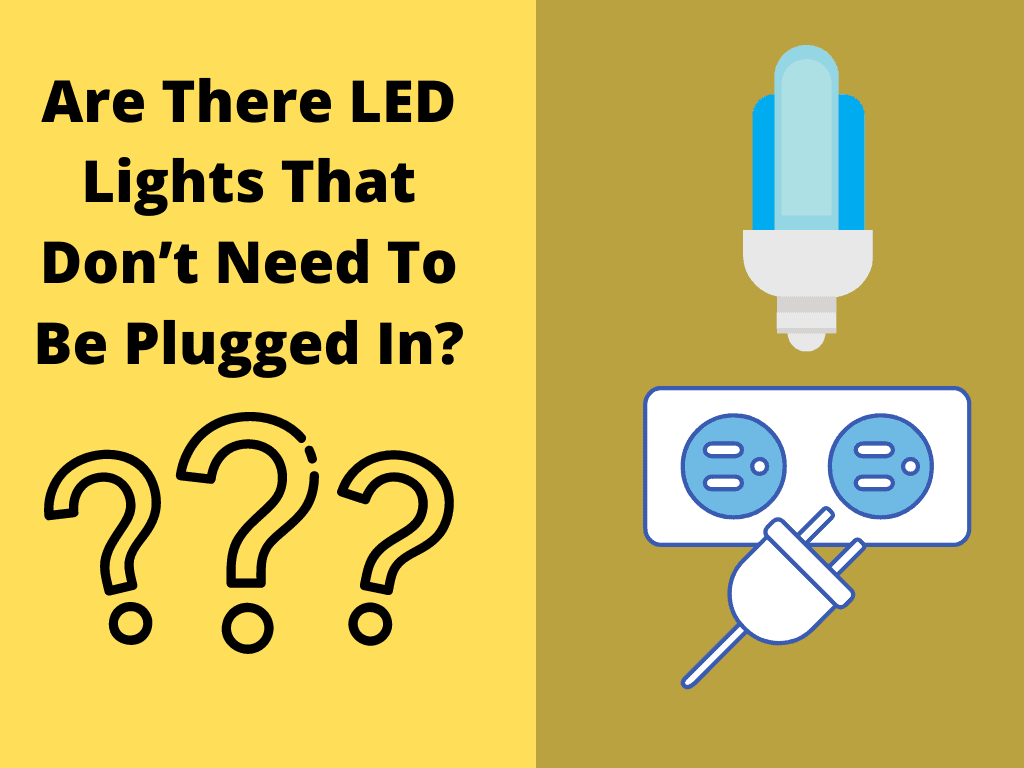 Wireless LED's for home
These lights are also an ideal choice for your home because they don't need to be plugged in, meaning they'll never have to stop working because of a power outage.
Sun as the power supply
There are solar-powered lights that can also save you money on your energy bill by not taking up any electricity from the grid and using it for something else instead.
Solar Powered Led Light Bulb
---
Remember to charge the lights
Keep in mind that battery-operated lights will need to be charged before use, so if you're planning on using them for a long period of time it's best to have backup batteries or invest in solar-powered versions which can be recharged by sunlight.
Solar LED lights are more expensive than battery-powered LEDs and may not work if you got bad weather, but they're worth the investment if you want to stay green.
Solar LED lights may be more expensive than battery-operated ones, but they last for years with no need to charge them.
If you need lights for a certain occasion, such as camping or outdoor events and festivals, then battery-powered led lights are your best bet. They can be used anywhere at any time without worrying about plugging them in beforehand.
Benefits of battery-operated LEDs
The Benefits of Battery Operated LED are that you can use them anywhere anytime, without the need for a power source.
The drawbacks are that you have to charge them before using them, but the LED technology makes the battery last usually surprising amounts of time.
And battery life is the least of your worries, as most batteries will last for hours or days before you need to charge them again.
Some battery-operated LEDs are motion activated so they only turn on when someone walks by, so that saves you battery life as well.
What to Look For in a Set of battery operated LED Lights
If you are looking for a set of battery-operated LED lights, make sure to look at the lumens.
The higher the number of lumens, it means that your light will provide more illumination in dark spaces or areas without power outlets.
An old incandescent 40 watt is about the same as a 6-watt bulb in LED and in lumen it's about 450 lumens, so make sure to do the math on that before you buy.
60-watt incandescent is the same as 12 watts in LED bulbs and the lumen is about 800 lumen.
A lot of people say that the higher lumens, the better but I think it's up to you how bright do you want your room and where are you using them at?
Different colors of wireless lights
Some people also like to get a light that has different colors.
I think if you get a light with three types of Kelvin temperatures you're good because it gives you the option to have different moods.
Warm
daylight white
and cool white
Some of the lights have an adjustable color temperature scale from 2700K to 6500K.
Some people like the warm color because they feel more comfortable and cozy, but others prefer a cool white light which is brighter for studying and reading.
The higher the Kelvin number is the cooler the light will be.
The lower the Kelvin number is, the warmer it will look like an incandescent light bulb would feel in your room.
So if you want to have a bright white color then get something with at least 5000K and below for soft warm lighting that looks more similar to candlelight or firelights.
Timer in wireless lights
You can find wireless lights that have a timer.
The timer can be set for a few hours or up to 20 hours and the light will automatically shut off at your selected time.
It's a nice feature to have lights on when you come home if it's dark.
And you can have a timer on night lights so you don't have to worry about turning off the light, it's also great for kids' bedrooms.
Some wireless lights will come with a night light feature which is really helpful for kids who are scared of the dark and they make it easier to find your way in the middle of the night without turning on all the lights.
The timer can also be set for when you want to wake up.
The timer will also save batteries for you and the lights will turn on when you want them to.
If your wireless lights have a motion sensor, it can tell if someone walks in the room and turn on automatically; this also saves you from having to worry about turning off the lights or forgetting something.
What type of battery-operated LEDs are there?
There are a few different types of battery-operated LED fixtures available.
Battery operated puck lights
• Puck Lights are battery operated
• They produce a lot more light than regular bulbs
• They're perfect for any desk, tabletop, or shelf
• You can use them to spice up your space by lighting up artwork and shelves
---
String Globe Lights
• Save power – String Lights are battery operated
• Stay cool and save money- Reducing heat and saving on the utility bill
• No mess or maintenance – Unlike traditional string lights, do not require any messy wiring. Simply hang them up anywhere that needs a little extra light!
• Versatility – You can utilize your String Lights for so many different purposes including presenting artwork or creating a festive atmosphere in your home.
• They're powered by AA batteries
---
String Fairy Lights
• Save time by buying cordless lights
• A simple way to make your event look more elegant without the hassle of electrical cords
• No need for an outlet, just stick these lights in any old vase, and voila!
---
Battery-operated Flameless Candles
• Enjoy the ambiance of candlelight without a flame
• Provide safety for children and pets by avoiding open flames
• Great for family homes, restaurants, hotels, malls- anywhere you need candles
• Use them to set the mood for any occasion
---
Wireless Picture Light
Do you want easy-to-install accent lighting?
• Install this light without worrying about wires
• Add a decorative touch to any space with lights that are never visible or unwanted
Install a few of these chic wireless picture lights and guests will think you spent thousands on professional lighting.
Choose whichever light mode best highlights your artwork or photos for any occasion!
---
Cordless LED Table Lamp
This futuristic-style table lamp is a beautiful addition to any room that needs some light. It operates on a rechargeable battery and has hand gesture controls, making it easy for you or your kids!
This fantastic design makes the perfect nightstand accessory or kid's bedroom lighting choice.
• No more cord for the lamp
• Ease of mobility and placement
• Lamp will always turn on where you want it to be
---
Cordless Vanity Lights
Who says that you need to be a millionaire or have tons of room for your vanity?
The perfect makeup mirror can fit in the smallest space and work wonders with any budget.
This product features four cordless bulbs, which are rechargeable so there is no fussing with cords; suction cups make it easy to attach light directly on top of your mirror wherever you choose!
• Reduce energy consumption with LED lights
• Create an illuminated make-up mirror for all your needs
• Customize the lighting to fit your mood
---
Wireless Light Bar
If you're looking for a quick and easy way to spruce up the kitchen, put in some clean-looking lights. The wireless light bars are an affordable option that can be mounted under cabinets with screws or self-stick tape – all at your fingertips!
• Affordable, wireless, DIY option for under-kitchen-cabinet lighting.
• If you've got a kitchen that needs some brightening up, LED lights might be the thing for you.
---
Battery-Operated Desk Lamp
Is your favorite workspace nowhere near an outlet? No problem!
With this battery-operated LED desk lamp, you've got light whenever you need it for reading, studying, or working.
Plus, with just a touch of the button on the top of its head to control brightness and turn on/off functions seamlessly as needed – there's no way that 'lighting dilemma' can keep up with your busy schedule anymore.
– It's portable and convenient.
– You can use it anywhere you need light.
– Eliminate the stress of trying to find a power outlet.
– Preserve your eyesight with this eye care reading lamp.
---
Bright Little Spotlights
There is a reason these battery-operated spotlights are called "mini." Despite their small size, they pack an impressive punch with features such as the automatic timer which can be customized to suit your needs.
The remote works up to 20 feet away and has several brightness levels so you're in complete control of how bright or dim it gets. Need some lights for art? They've got that covered too!
Or why not illuminate a dark hallway or closet?
---
Battery Powered strip lights that don't need to be plugged in
These lights can make a big change in your home. These lights are perfect to use when you don't want cords' insight.
By being a little bit creative, you can create the perfect ambiance in any room.
In a dark hallway, these lights are great to use when you're looking for some light without having cords insight or if there isn't anywhere close by that plugs into an outlet. The light output will be more than enough for most users.
Should you need different colors, choose the RGB LED strips.
RGB stands for Red Green and Blue, which is the most common type of LED strip light you'll find in stores.
---
Led Strip Lights
Searching for battery-powered LED light strips?
• If you're looking to brighten up your home in a creative and quick way, these lights are the perfect solution
• Easy to use and install with no additional wires needed for installation
• Instantly add festive nighttime ambiance thanks to the multicolor options
• Clean, thin design gives off excellent light coverage all across your room
Advantages of Battery-operated led light strips:
No need to plug in for power, they are battery operated.
A great option for art lighting or highlighting parts of your home that might be difficult with overhead light sources. Allows you to aim the strip where needed and change colors easily!
The thin design is perfect for tabletops, ledges, decorative windows, and more!
 You can switch the light strip on and off, change between many colors, and switch motion patterns.
Battery operated led lights disadvantages:
Kit requires some assembly prior to use
---
Rechargeable Night Light Table Lamps
If you need a light that you keep on just for a moment, then a night light is perfect for you.
Night lights are designed to provide just enough illumination during the darkest hours of the day, without being too bright and distracting from sleep – or worse yet, shining in your eyes if you wake up in the middle of the night!
The Night light is a handy dimmable LED bedside lamp that includes a Bluetooth speaker and rechargeable nightlight.
It has three levels of brightness to choose from depending on the amount of lighting you prefer!
---
Conclusion:
Are there battery-operated LED lights?
As someone who likes to be green, you might have been looking for led lights that don't need to be plugged in. Fortunately, there are many different options out there for not only saving the environment but also your wallet!
There are many "LED lights that don't need to be plugged in," but they all differ slightly.
Some of them come with a battery pack that can charge the light and others have solar panels so you never run out of juice.
They also vary when it comes to brightness (some are brighter than others) and how long they last on one full charge (the length varies).
Many of these lights come with a remote control so you don't need to hit the light switch.
It just up to you to figure out what type light fixture you want to buy, and then choose the one that best fits your needs.