If you have a shed without power, then you need to get the best light option for your needs. Selecting lighting for your new or existing shed can be complicated. There are many options available and sometimes figuring out which one is best for you just isn't easy.
If you don't have power to your shed but you still want lights, well don't worry, the good news is that there are several good options for you out there.
The difficult part is trying to decide what type of lighting is going to be best for your shed and what you plan to use it for.
Some options such as wiring in electric lights can get expensive as you might need to bring in an electrician. But you can install LED bulbs that don't require any wiring, just screw them in!
Other options such as a battery or solar-powered lights are easier to install but may not produce enough light for you. So you should consider the size of your shed and how much light you'll need for it.
Let's go over the available options, plus you will get a tip on a reliable and proven technology that provides renewable electricity 24 hours a day, 7 days a week.
---
Solar Lights For Sheds
Solar shed lights are an ideal choice if you want to light up your shed. These sleek, modern solar-powered lamps never need a power source the sunlight will power it up fine! Solar lights will save the hassle of wiring or drilling into your walls for electric installation while still providing great illumination that can last all night long- no matter what time it is outside!
60LED
800LM
For Outdoor Indoor
Home
Yard
Barn
Gazebo
Patio
Porch
Storage Room
Balcony
Chicken Coop
IP65 Waterproof
This solar-powered shed light is the perfect solution for those who want to cast a larger illumination. With three LED panels, 60 LEDs, and an angle adjustment, this light covers more than 80% of the area that other lights don't cover. So if you're going for just one light source this can be a good option for you.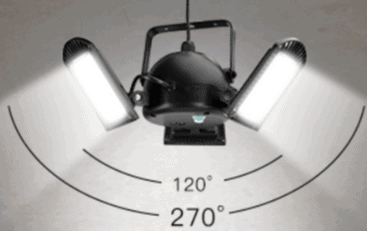 The remote control is also nice to have so you don't stumble over something if it's dark when you're entering your shed.
The wires are long enough (16FT) for most sheds to cover the length from inside the shed to the outside where your solar panel is installed.
The 4400mAh battery can keep the LED solar light lit for up to 30 hours after a full charge, making it last easily all night.
The modern style of this shed light can be a dealbreaker for someone who wants some more old-style lighting, but then again you won't usually get the angle adjustment with the older style of lights.
Pros
Light coverage with the three-leaf LED design
Modern design
Dimmable
Timer
Cons
The remote control could be more sturdy
External Solar Panel
118 inch cord from lamp base to panel
This Kyson Remote Controlled Solar Shed Light provides a clean and efficient way to illuminate outdoor sheds with an eco-friendly design that looks industrial.
It comes with an Edison-style bulb, E27 Socket. The bulb is a 3V bulb, so if you ever need to change the bulb remember only to use a 3V bulb with this fixture. The higher voltage bulbs won't work with this light.
It comes with a remote, the range is 16 ft, it also has a pull cord.
This fixture is not dimmable and the light color is warm white (2700K). If you need super bright light, then this light might not be the best for your needs. A much brighter light is this one with a more bluish light.
If you like a more vintage/industrial look you won't go wrong with this Kyson solar-powered shed light.
The remote control is not solar-powered but it comes with a battery(1x CR2025).
When you're installing the solar panel, remember that you can't adjust the angle of the panel afterward, so you must install it in the right position to get the maximum load capacity from the sun.
If you never installed a solar light before don't worry! The installation takes only about 15 minutes and then you will have your shed lit up. It's not the brightest of lights as I mentioned above but, but it will meet all your needs if you want a normal light source.
Cons
If you replace the bulb you will need a 3V bulb, won't work with higher voltage bulbs
---
Battery Operated LED lights For Sheds
Battery-operated shed lights are perfect if you don't have any electricity and are tired of using your flashlight in the shed.
There are many types of battery-powered shed lights to choose from:
Battery operated led lights with remote
Battery operated led strip lights
Individual mini led lights battery powered
Battery operated string lights for sheds
Battery operated shed light with motion sensor (my personal favorite)
300LM
White
Photocell Sensor ON/Off
120-degree detection angle and 20 feet sensor distance
These motion sensor-activated LED shed lights are battery powered so it runs without wires, so you can install easily without any wire trouble. It will turn on as soon as you open the shed door and stay lit for about 20 seconds when leaving your shed. When installing remember to face the motion detector to the door so the light turns when you enter your shed.
The light is bright enough for reading if you need to read some manuals or anything like that. The light runs on 4 D-cell batteries but they are not included.
Pros
Price
Super sensitive motion sensor
Cons
Installation instructions could be better
Just white color
---
Battery Operated LED Lights With Remote For Shed
Remote-controlled shed lights are an excellent choice because they allow the user to turn on and off the light from anywhere in their yard, which makes them perfect for nighttime use. Sheds can be difficult to get into when it is dark outside, so remote-controlled sheds make it easier to find what you need without having to fumble around in the dark.
Starxing Puck Lights are an excellent choice for shed lighting. They emit a powerful brightness despite being small in size.
You get to choose the right light for your needs with 4 different dimmable modes (10%, 40%, 80%, and 100%).
Want a timer? You can set it anywhere from 15 minutes all the way up to 120.
The remote control is easy to use (12 buttons) – simply take the remote with you when you enter the shed!
These wireless LED shed lights are easy to install and powered by 3 x AAA batteries. This means you will have everything you need for a quick installation with original 3M adhesive tapes, conveniently included in the package!
Pros
4000K
Easy installation anywhere just clean the surface first
Dimmable
Timer
Comes with a few extra 3M adhesive tapes
Cons
The 2 remotes included no batteries
---
Rechargeable Shed Light
The rechargeable (USB) LED shed light is an affordable, safe alternative that provides hours of bright light on a single 5-hour charge. It will last much longer when you only use the motion sensors to activate the light.
If you want to get the most out of your shed lighting, make sure that when installing it, you put the sensor ball facing straight ahead where you are coming from so it can fully detect motion. It comes with an adhesive strip with magnetic so you can pretty much install it where ever you want. The magnetic surface of the light makes it easy to take it with you when you need to recharge the batteries.
This is a rechargeable (2400mAh) equipped with a motion sensor shed light and the sensor got 2 different modes. Installation is super easy, you just need to peel off the paper from the magnet and place where you want the light.
Pros
Easy installation
Rechargeable
Two colors: white and silver
---
These are more than just ordinary bulbs, it works as an ordinary bulb but it will charge itself automatically when the bulb is screwed in.
You can charge these inside your house or where ever you got electricity and a lamp socket. So when you got the bulb fully charged you can put it in your shed, in a socket or you can hang it from a hook that you screw into the bulb base (E27). The hooks come with the bulb, so you can hang these bulbs anywhere in your shed.
You turn the bulb on by touching it on the base of the bulb.
Pros
Easy to change places for the bulb
Good light power
Cons
Needs charging with electricity
---
Water Turbine 12V DC Output For Shed Lights
This is a more DIY system for your shed light problems and not as easy as the other solutions above.
Yosoo DC Water Turbine Generator is a new product of Yosoo Company. This product can be used to produce electricity from the water current.
How does it work?
You can hook it up to a hose or water pipe and when the water flows through the turbine it generates enough power to light up a 12V DC light bulb that you have in your shed.
You are going to need to do some electrical wiring for the light from the generator and of course, have running water available.
Pros
Light coverage with the three-leaf LED design
Simple construction
Fun project
Cons
Just for the DIY
Voltage fluctuations
Conclusion:
There are many solutions available for your shed lights. You just need to pick the best for your situation. You may want to think about the cost, how much time they'll be on each day, and which matters most to you: saving money or being green?
The most important thing is to make sure you buy quality lights that will last for many years!
Related Posts