Many people live in fear of hiring an electrician. This is because they have heard horror stories about how expensive it can be to hire a professional electrician, and they are worried about what will happen if things go wrong.
But the truth is that most electricians offer free estimates, which means you don't need to worry!
In this blog post, we'll talk more about why free estimates are so important for your project, and also give some tips on getting them from your local electrician.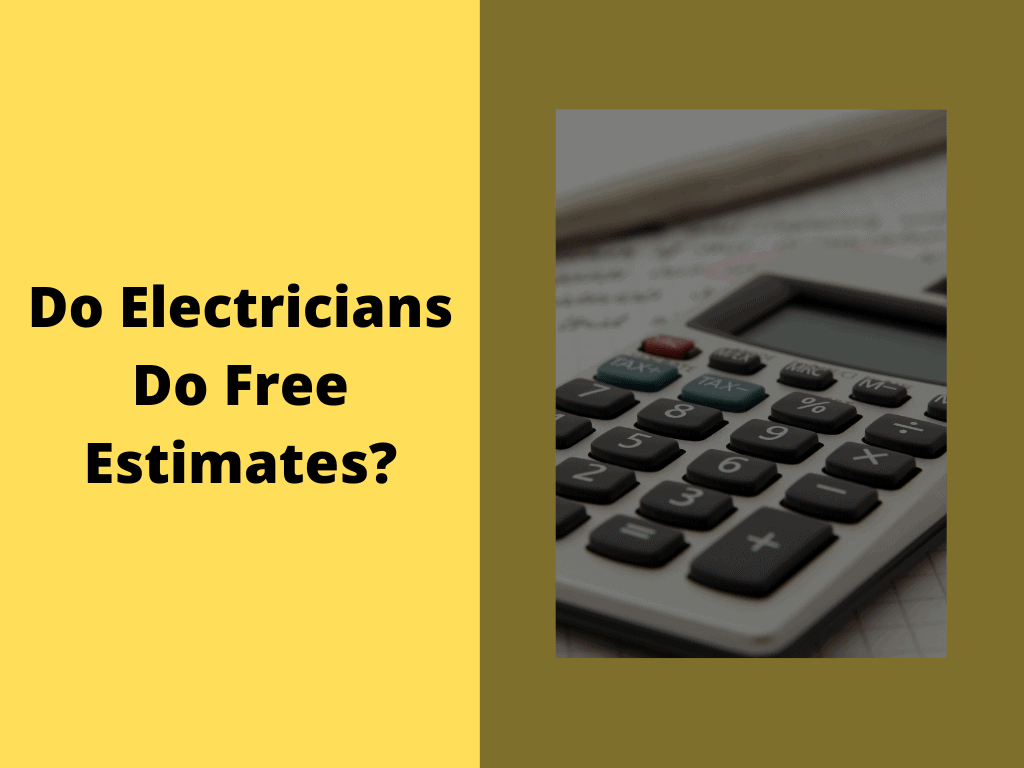 Do electricians do free estimates?
Free estimates are a must for any electrician, and they are something that you should always ask for. This is because sometimes the work will be more expensive than originally thought (for example if it turns out there's an extra wire somewhere), or what was initially estimated may not have included everything. When this happens, it can all come as quite a surprise to you when the bill arrives.
Free estimates will also give you peace of mind because they provide an opportunity to ask any questions that may be on your mind, such as what the materials for this job are going to cost and how long it's likely to take (which can help you plan around other things).
How do I get a free estimate from my electrician?
Well, you can just call or fill in a web form like on our site and an electrician will get back to you asap.
If you fill in the form you can tell what kind of electrical work you need and we'll point you to electricians in your area who are well-suited to the job.
You can also phone our team at 877-438-0996 (toll-free nationwide) for free, friendly advice about any electrical work that might be needed on your property.
Electrical Estimate vs. Electrical Quote
Installation or upgrade requests are typically provided with an estimate. Despite this, most electricians will still recommend coming out to your property before giving a quote.
Generally, electricians offer an estimate for the job over the phone. When a contractor arrives at the site of the potential project, they can usually provide a quote.
Hire an electrician
When should I call an electrician?
An electrical contractor can do many different types of electrical work, from replacing a plug socket to rewiring your home and adding an outlet.
An electrician can also install appliances for your kitchen, such as fridges, dishwashers.
They can also install air conditioners, range hoods. They might be able to fit you with some underfloor heating too!
Electricians are handy people to call if your fuse box is overloaded or short-circuiting, as they can repair this quickly without causing further damage to your house.
You can also hire an electrician to install a light fixture or chandelier. They can also install outdoor lights and outlets, as well.
If you need to upgrade your electrical panel that's a job for professional electricians too.
Or any other electrical feature installation or maintenance you need!
When you're hiring an electrician it's important that they have the right qualifications and experience for the job in question – so don't just go with any old person!
A qualified electrician will be able to provide you with all sorts of advice on electrical work that you might need.
Materials, time, troubleshooting, and pricing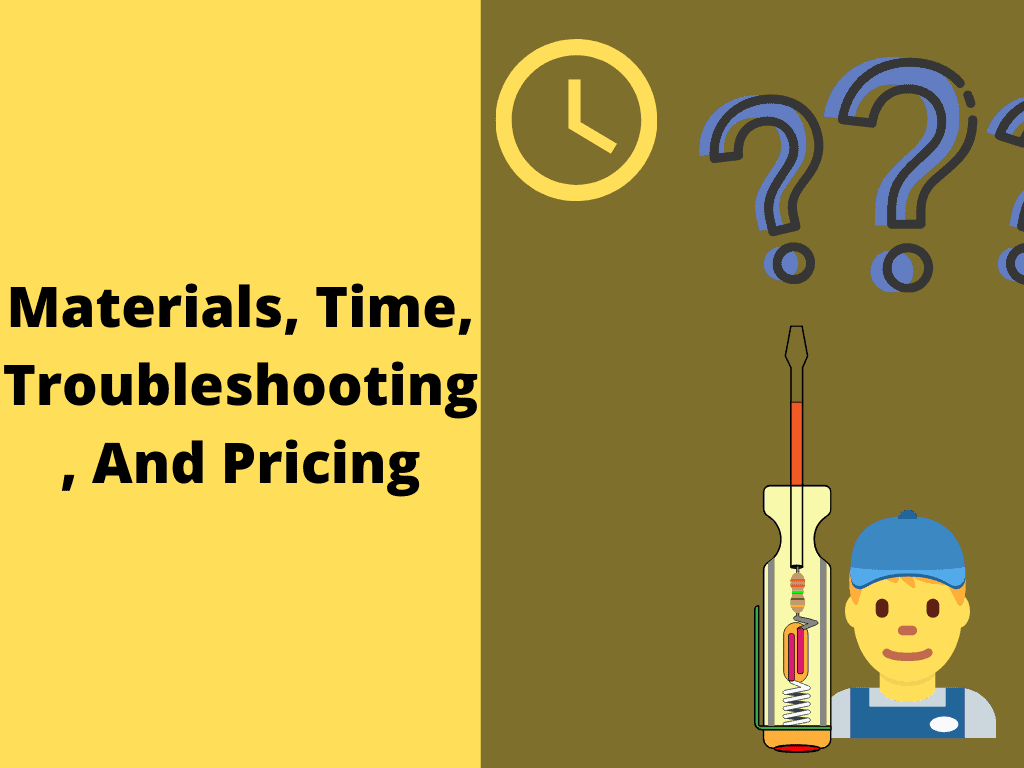 For troubleshooting electrical problems, what many contractors do is charge a flat fee per hour.
It will often cover the first hour of work to find the problem, and then so much per hour after that.
This way, an electrical contractor is protected from doing work for free, because everyone has agreed to a known hourly rate, but the hours are unknown. An experienced contractor may be able to provide you a price range upfront.
For instance, they may say, "It's a typical problem, and in most cases, we see anywhere from 1-2 hours to track it down. Based on that, we estimate between this amount and that amount of dollars, plus parts if needed."
Electrical work
Electrical work is dangerous if done wrong, so make sure you pick the right pro and also that the electrician is qualified, experienced, and licensed.
An electrician should have the right qualifications, certificates, and should also be registered, insured.
Electricians near me who does free estimates
Not all electricians offer free estimates and some of them won't give you one without first viewing the worksite.
But there are experienced electricians who can give you an estimate based on a phone call or filled-in web form.
Electricians who offer free estimates are more likely to be experienced and that can save you money in the long run.
You should also compare several bids when hiring an electrical contractor to avoid paying too much.
How can you find a reputable electrician?
Knowing how to research the pros in your area and what questions to ask is crucial for hiring a professional electrician.
You can ask for a list of past customers and then call them to ask if they were satisfied with the service.
You should also look for electrician reviews online that you can find by doing some research before hiring an electrician.
Don't just go with your gut feeling, because it's not always right when choosing between multiple companies or contractors.
---
Hiring an Electrician Important Questions to Ask
1. License
Any electrician you hire to visit your home should be licensed in your state. Depending on the work, if performed by an unlicensed electrician, they may not meet code or inspection requirements.
It depends on the state you're in, but electricians should have either a Journeyman or Master license for them to be able to provide an accurate estimate of what needs to be done. Electrician companies need an Electrical Contractor's license before giving estimates.
2. Permit
Small jobs, such as replacing outlets or updating light fixtures, typically do not require a permit or inspection. However, whole-house rewiring and panel changeouts need permits and state inspections.
If you hire an electrician for the job, they will usually handle requesting a permit and inspection process.
3. Who is in charge of any associated repairs?
Knowing what type of work you're getting done and what that will entail is critical when hiring an electrician. Several types of projects involve cutting holes in the drywall, which must be repaired afterward.
Electricians usually do not do drywall repair, so you will need to arrange for that separately. This should be mentioned in the contract with this job.
4. Do you do this type of work often?
For electrical work, the electrician needs experience. A reputable electrician will tell you if they're not qualified to do the job and refer you to someone who is.
5. Will this fix my problem for good?
In some circumstances, especially if the wiring or main electrical panel in your home is older, the only way to correctly fix an electrical problem involves extensive rewiring.
If you're not prepared for that type of work and there aren't any direct safety concerns, your electrician will likely be capable to design a less invasive temporary solution.
6. Interruption in your electrical service?
For most electrical work to be done safely, the power needs to be turned off to either the entire house or to the room where the work is being done. Ask your electrician what the job entails in order to prepare accordingly.
7. Ask about warranties and guarantees for the electrical work
Is a smart idea to ask the electrician about guarantees and warranties for the work they perform. You don't want to pay thousands of dollars for work that won't last.
A good electrician will be able to provide a warranty and guarantee against faulty new wiring, equipment, or installation errors. If there is an error in their work they should fix it free of charge as long as you are within the terms of the contract.
When hiring an electrician, make sure they tell you about warranties and guarantees for the work they do.
You can also ask to see proof of insurance for the electrician.
8. Ask about previews projects
This will give you an opportunity to see what projects they have done and how satisfied their previous clients were with the jobs.
What does it cost to hire a skilled electrician?
The cost of hiring a good electrician can vary widely depending on the complexity and size of the job.
The average professional electrician is paid about $300 for a project or about $50 to $100 per hour.
Hired pros charge by either the hour or on a project basis, depending on their experience and licensing.
If you want to help your electrician and yourself, do this, as soon as you notice something out of the ordinary in your home's electrical system, start documenting how often and under what circumstances you see the issue. This will make it easier for a professional to determine and fix your problem a lot faster and that can cut the price down for the job.
Why are electricians so expensive?
People often complain about how expensive electrical contractors are.
But electricians charge as much because the need, for their skills, is in high demand.
It's not that they are greedy – it is a reflection of how skilled these professionals are and what people will pay to have them around when an electrical problem arises.
No one wants to find themselves with an emergency at home or work without someone who can't fix that emergency.
This is why electricians can charge a premium fee for their services.
One thing to remember is that electricians are in the top five highest-paid non-degree professions, and they have a lot of responsibility.
With fewer skilled workers entering the trades, it has become increasingly difficult for businesses to find qualified employees.
So it's also the lack of skilled labor that has led to high wages.
---
Tips on how to get the Best cost estimate from Your Local Electrician
Cost estimates
To get a general idea of what it will cost to complete your electrical project, you should ask several professional electricians.
Get the details of each quote and project
Make sure that when you receive the quotes, they should include the labor costs and part estimates for each project in your home. The more detailed a quotation is, the better.
Put prices in black and white
Make sure your expectations are made clear through written agreements.
Check for changes in the contract
Discuss with your contractor about what would happen if you were to be unhappy with their work or circumstances arise that change the bid. Gauge their willingness to provide and deliver a quality product or service.
Review and understand everything related to price and project
Read the information given carefully to ensure you understand exactly what will be included in your estimate.
Conclusion
In the end, getting an electrical estimate for upgrades and installations is often straightforward and simple. The best way to go about it is to be prepared with questions and a rough idea of what you want to be done so that the electrician can provide an accurate estimate for free or nearly free upfront.
Related Posts