Ring Doorbell Installer
It is advisable to use the latest technology to enhance the security of your home. The Ring Doorbell is a video doorbell that can help you see who is at your door even when you are not at home. A Ring doorbell easily connects to your WIFI, and you can use it to check who is at your door at any time. Every time someone rings the doorbell, you will get an alert, and you can check the video to see who it is. It is a beautiful piece of technology that ensures you do not let strangers into your home.
CAN I HIRE SOMEONE TO INSTALL MY RING DOORBELL?
You can either DIY your doorbell installation or hire an expert to install it for you. Since you do not have any training on video doorbell installation, it is better to have an expert install it for you.
An expert will have the know-how to ensure that your doorbell works perfectly. If you are interested in a free installation quote for the Ring doorbell contact us at 877-438-0996 (toll-free number for the U.S.).
You can also contact us with the form below: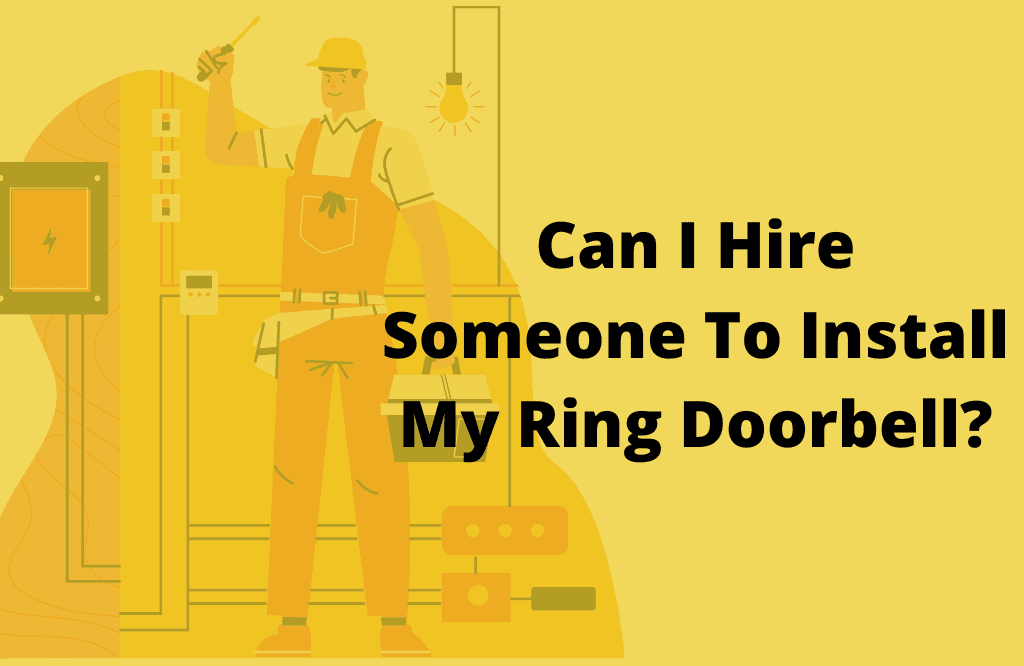 Here are some more benefits of hiring someone to install your video doorbell for you
When you hire an expert to install your video doorbell, there is a low chance of them making a mistake. On the other hand, if you do it yourself, you may make a mistake and damage it. An expert will also have installed doorbells before and handled a variety of challenges. In case there is a problem with the doorbell, they will know and help you find an appropriate solution.
Having a doorbell expert install your doorbell saves time used reading then engaging in trial and error. An expert will ensure that the doorbell is installed and working quickly and efficiently. If you DIY it, you will make mistakes and have to start over many times. That can damage your doorbell and cost you money.
There is peace of mind and satisfaction when an expert installs your doorbell. If you do it yourself, you will be worried you made a mistake, and the doorbell will not work. But when you have a Ring Video Doorbell installation expert put in your doorbell you can relax. You will be sure that the doorbell is in good condition and works.
Hiring an expert ensures that they have the right equipment for the job. If you decide to do the job yourself, you may incur further costs to buy the equipment you need. It will also mean that the installation will take much longer. An expert can have the work done within a short time because they have the right tools. Bear in mind that using the wrong tools can damage your doorbell.
Expert installers have been working with video doorbells for a while and will have useful tips for you. They can advise you on where to put your video doorbell and other security measures you can take to protect your home.
THINGS TO CONSIDER WHEN HIRING A VIDEO DOORBELL INSTALLER
As noted above, there are many advantages of hiring an experienced video doorbell installer. Here are essential things to consider when hiring a video doorbell installer.
Talk to the installer about how much they charge for the service. You can call several businesses to find one that is within your budget. If you are looking for a Ring Doorbell installer, call us today for a free quote. We offer competitive installation packages.
Make sure that you check out reviews of local installers. Choose installers that have good reviews as they are most likely to do a good job.
Experienced installers do a better job. Ask your installer how long they have been in business and how many similar jobs they have done. Do not hire an inexperienced person as they are likely to make mistakes and damage your doorbell.
It is crucial to ensure that the installer you hire is professional. If an installer does not return your calls or shows up late for meetings, they are not a good fit for you. You must hire an experienced doorbell installer. We offer top-of-the-line installation services at a competitive rate. If you need an installer, call us today for a free quote at 877-438-0996
Related Posts