Can humidity destroy your LED strips?
Humidity is bad for a lot of things. Is it also bad for LED strips?
It depends on what type of LED strip you have and where they are located.
There are some types of LED lights that can be damaged by the moisture in the air, while others don't mind at all.
If you plan on using your LED Strip Lights in a kitchen, bathroom, or outside, then the answer is almost certainly yes humidity can destroy your LED strip.
Let's take a look into it more to see if you need to worry about your own strip lighting!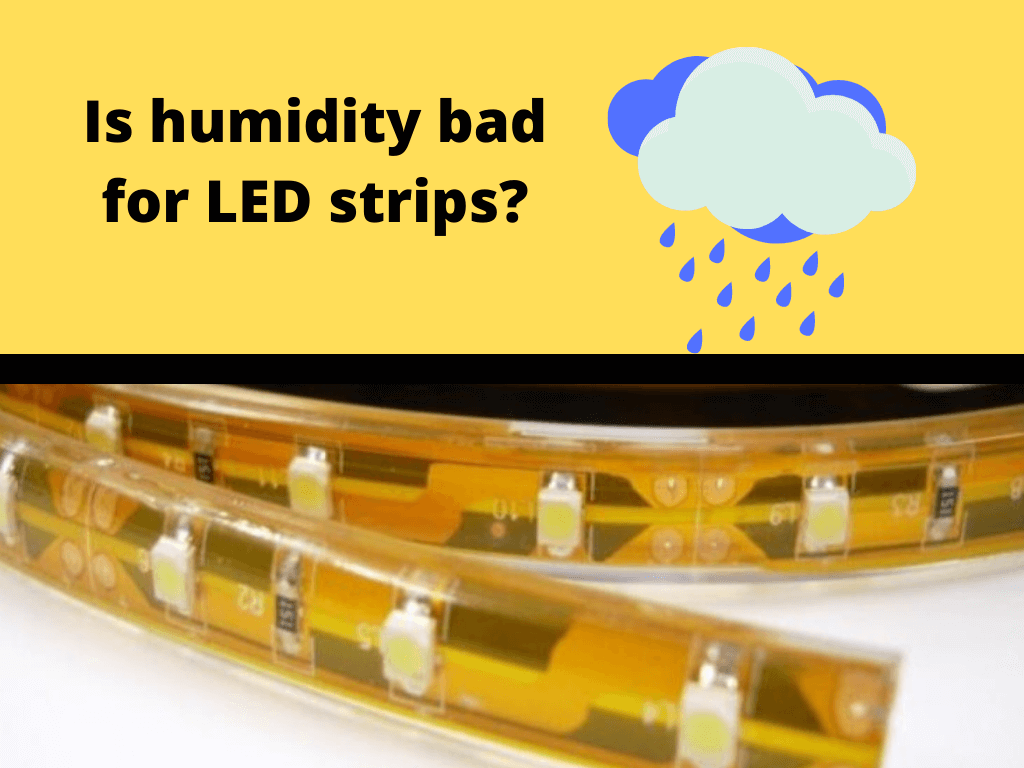 Ip rating for LED lights Strips
When installing LED light strips in the kitchen, bathroom, or outside, there are a few restrictions on what kind of light fittings you can use.
If moisture and humidity could come into contact with your LED Strip Lights and cause damage to them, then it is important that they have an IP rating of at least 65.
This protective layer prevents moisture from reaching the light's internal components and causing a short circuit.
The level of protection offered can vary from unprotected to airtight.
What do the different Ip ratings mean?
International standard EN 60529 defines IP ratings.
They are used to tell how good the seal is between an electrical enclosure and foreign objects.
Let's go over the most used IP ratings for electrical components.
IP65 Enclosure – rated as "dust tight" and/or waterproof, these LED strips are good to use where there is high humidity.
IP66 Enclosure – This product is IP rated as "dust tight" and protected against powerful jets of water.
IP 67 Enclosures – IP rated as "dust tight" and protected from the immersion of 150mm – 1000mm for up to 30 minutes.
IP 68 Enclosures -The IP rating for these LED strips is "dust tight" and protected against complete, continuous submersion in water.
If you are going to install LED strip lights in a high humidity location, I recommend using IP65 or IP66 rated products.
An IP 65 rating will usually be enough for most places and is a good choice if you want to save money.
How is the LED strip protected from water and humidity
Waterproof LED Strip Lights have a special plastic coating that protects them.
The silicone gel casing around these lights is excellent at resisting condensation and splashes of water from cooking food or washing dishes or steam from the bathroom.
This is called an IP rating and it stops water from reaching the inside of the light. The degree of protection varies but usually falls in the range of no protection to complete protection.
If you are using your LED Strip Lights in the kitchen or bathroom, be sure to purchase a product with an IP65 rating.
Advantages of IP 65 Rated Led strip lights
IP65 LED Strips can be cut without risk of water damage.
Other types of strip lights cannot be cut, as doing so compromises their protection.
An example of this is IP67. This means it has a plastic "sleeve" that is hollow inside. Don't cut it, or water will get in and the strip light will be exposed.
Installing LED strips in a high humidity location
When you are setting up your installation, be sure to think about the peripheral units.
Conventional power supplies, controllers, and amplifiers are not waterproof.
If you can keep these units away from moisture, that is better. But if it is unavoidable there are IP-rated versions available.
Conclusion
Do I need water-resistant Led Strip Lights?
The answer to the question depends on your locale – if you will be using your LED strips in a kitchen, bathroom, or outdoors, or any other high humidity place then the answer is almost certainly yes. IP 65 rated lights are a good choice for high humidity locations.
Related Posts