You can probably agree that there are a lot of led strip light options for bedrooms and it can be a bit difficult to choose the best one available.
There are a couple of important things you should know about when choosing led light strips.
Some strips are modifiable while others are stiff, so you can pick the most suitable for the surface you are looking to light.
Some models are waterproof, to allow for outdoor use and keep your light strip free from moisture in places such as bathrooms or aquariums.
LED strip lights for bedroom must have a dimmer so you can control the brightness, they must also have a multicolor function so you can easily change the color of the lights and change the mood of the lighting.
If they are going to be visible, then the rope lights are a good choice. But if they are not going to be visible, the led strip light is a solid choice.
| Brand | Type | Check Price | Rating 1-5 |
| --- | --- | --- | --- |
| MINGER LED Strip Light | Tape light, Color Changing Full Kit, Remote Controller, Dimmable 16,4 ft. | $ | 4.2 |
| Govee 32.8ft LED Strip Lights | Tape Light, Works with Alexa, Google Home, Wireless Smart App Control, Dimmable, 32,8 ft. | $ | 4.3 |
| Areful 16.4 Ft Flexible LED Rope Lights | Rope light, Color Changing, Multiple Modes, Dimmable, 16,4ft. | $ | 4.3 |
| Bebrant LED Rope Lights Battery Operated | Battery operated, Color Changing, Dimmable. | $ | 4.4 |
What kind of led strip lights are available for bedrooms?
If you are unfamiliar with strip lights, you may be confused by what fixtures you should use. Rope light? LED strip light?
Rope light and LED strip light may appear to be the same type of lighting. Though, it is necessary to know that rope light and LED strip light are two very separate fixtures. Let's examine the differences and decide which is best for you.
Rope lights for bedroom
These lights are a series of LED bulbs encased in tough material. The casing can be plastic, epoxy, or some other clear material. The tubular string of lights provides 360-degree light spread, making them a good option for wrapping around objects, accenting doorways, under beds, and much more. They are also great as decorative lighting. You should also know that rope lighting is mainly decorative because the light output is minimal. As seen in the image below.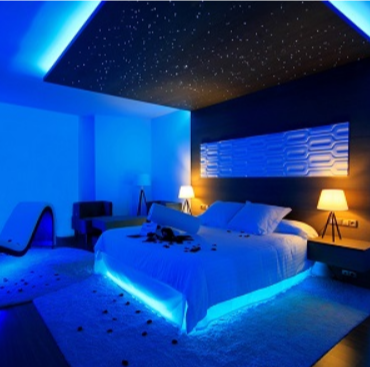 LED strip lights for bedroom
LED strip lights (aka LED tape lights) are flexible circuit boards populated with surface mounted LED, typically with an adhesive backing. They are low profile, and easy to install, strip lights are great for under cabinet lighting, bar lighting, cove lighting, and more.
These lights look best when they are hidden, for example behind the headboard of the bed.
Which type of lights should you choose then?
Rope lights:
They are cheap and can be cost-effective in the short term if they are of high quality
Rope lights can run upwards of 250 feet when utilized with an AC input and about 50 feet when using DC input before needing an extra power input
360-degree viewing angle enables them to be formed into shapes or used better for Christmas ornaments
The main downfall of rope lighting is low light levels. Rope lighting is not the right choice for many types of applications that LED strips would surpass in, such as under-cabinet lighting, task lighting, high visibility applications
Rope lights are a little bit thicker
Rope lighting is available in a variation of colors or a single tube with various colors in it
Individual ropes can normally be spliced together
Led strip lights:
Very high brightness choices available and are dimmable
Strip lights are really simple to install in a variety of settings. These lights are also termed 'tape lights' because of their resemblance to tape
Easy to install and comes with a 3M adhesive on the back to make wiring simple
Capacity to bend 90 degrees
Better CRI, light purity, color consistency, and color accuracy with LED strip lights
Offer a broader range of color-changing options with a more comprehensive circuit system for controlling colors, by a remote or a more complex Digital Multiplex system
The cost of LED strips lights and rope lighting can differ considerably, however, the price does tend to match the quality too. If you intend using your lights every day and having them for years to come it's always worth spending a little extra in quality lighting.
While both rope lights and LED strips are excellent and clever lighting choices, I noticed that when it comes to a brighter light, customizing lengths, angles and colors LED strips provide much more freedom to materialize the vision of different projects. But rope lights are great too if, you don`t need super bright lights.
Is it easy to install led strip lights and rope lights?
Starting with strip lights, the most significant draw is how simple they are to install. Their flexibility, low-profile and practical accessories make them the most popular LED strip for the at-home DIY types. With LED strips, you can design like an expert with the appropriate supplies and it will just take an hour or two.
Cutting LED strips is very easy thanks to the cut lines along the strips.
The LED strips have a 3M sticky backing for easy mounting options. The low profile and flexible strip have a peel-off lining which displays the 3M adhesive, making for a fast and easy install.
There are waterproof and non-waterproof strips available.
The LED strip lights need 12VDC power input to work, this will require an AC/DC transformer but, you can also power them from batteries.
Installing rope lights
Installing rope lights is pretty easy. Most rope light kits come with a power cord and an end cap, but if yours doesn't don't worry too much regarding it. You will need to buy and fit these parts to your rope light, but they are not expensive and easy to install. They are usually mounted with clips, and because of the 360-degree viewing angle, they can be made into shapes, wrapped around posts, and different decorative applications. Rope lighting may also be cut – about every three feet – the rope is marked at cutting intervals.
If you are going to bend the rope light, it is best to plug it in for a few minutes before continuing as that will warm it and make it more flexible.
Make sure to do this for all light strips you install anywhere in your home. It may appear like an extra step, but it is essential. Just clean the surface that you are going to install with a regular house cleaner and then some rubbing alcohol.
Where to install these lights in the bedroom?
You can install led light strips in your bedroom ceiling
Hidden behind the front or just below the top of the cabinet
Mounted behind concealing trim work with the top open to the ceiling, rope lights would be easy to install to provide a dim or colored ambiance to a room
Under and around the bed frame