Quick buying  guide for GU4 12v LED lights (mr11 and mr8) Top options for (LANDSCAPE LIGHTING LED LOW VOLTAGE.
Whether used for reading, or as a light in any space, LED bulbs do a wonderful job illuminating a space.
The GU4 LED has two sharp pins (4mm apart centre to centre) in the bottom of the bulb and is classed as a push fit bulb.
The GU4 Bulb are usually available in two different reflector housing sizes: MR8 and MR11 (MR multifaceted reflector).
MR lamps are designated by symbols such as MR11 where the diameter is represented by numerals indicating units of eighths of an inch.
Common sizes for general lighting:
MR11 (11/8 inches, 35mm).
MR8 size is 25mm in diameter and used for novelty lights and interior of low voltage vehicles ( bus, RV, boat, yachts).
Gu4 LED Bulb – Top 5 List
---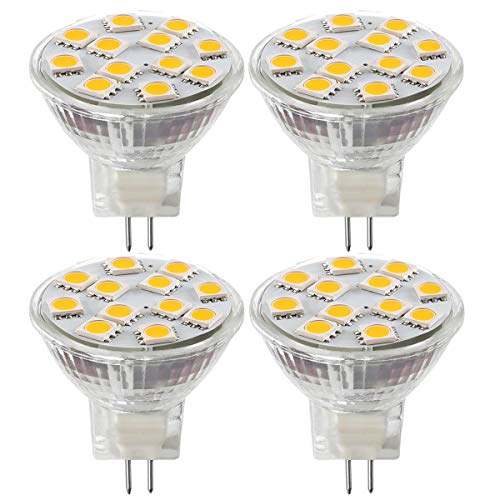 Led replacement for mr11 halogen
I`ve been using these for landscape light fixtures but they can be used in various locations around your house and property.
I have them on about 9-10 hours at night on a timer and in pretty much all types of weather. In two years so far, I have yet to replace any bulb.
The bulbs put out more than enough of light to focus on your landscape trees and bushes.
Led replacement bulbs for Malibu landscape lights
If you have been using halogen bulbs before the low-wattage use of these bulbs is going to drop your energy bill big time. Plus these little bright bulbs are reasonable priced too.
Not only are you going to save electricity,  you can also add fixtures and still not go over the wattage your transformer allows if you`re upgrading from halogens.
The soft color is very natural and does not have that fake LED light color that some bulbs have.
These are also largely unaffected by vibration because they do not have filaments or glass enclosures.
Features:
2.4W LED MR11 Light Bulb 12v

20w Halogen Replacement

GU4 Bi-Pin Base

Soft White 3000K or Daylight White 4000K

120° Beam Flood Spread considered the industry standard
Pros
•Price
•Plastic material
•Does not get hot
Cons
•Sold only in 4-pack and 12-pack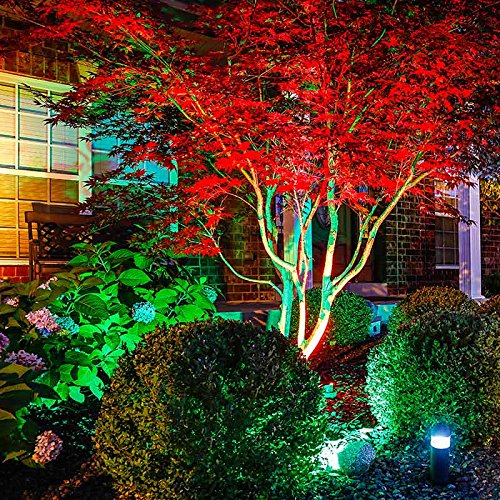 Colored GU4 bulbs for adding color to the landscape
You can save over 85% instantly with your electric bill by upgrading your halogen MR11 bulbs to these UL listed CB Concept LEDs.
The size of these bulbs are little larger than most sold LEDs, so make sure they fit in the fixture before buying. The height of these are 35mm or 1.37″ so they are a bit larger than the standard bulb, but they fit perfectly into all MR11 standard sockets.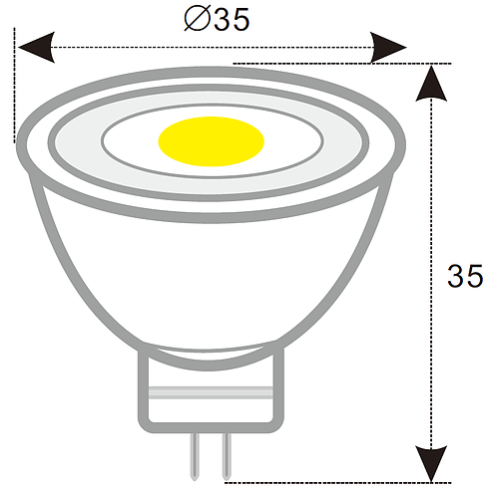 Malibu outdoor lighting fixture led bulbs
The white bulbs are the only dimmable so don`t make the mistake and buy the colored bulbs and try to dim them. The non-dimmable bulbs are blue and red.
They are made of aluminum and PC and because of that they are shatter resistant in normal use. The bulb produces only a tiny amount of heat, that you only feel if you directly touch the lens.
Features:
2 Watt
Dimmable (not the colored)
 36° Beam Angle
12 Volt
20W Halogen Bulbs Equivalent
Landscape/Accent/Recessed/Track Lighting
Designed In San Francisco
Pros
•Dimmable
•Does not get hot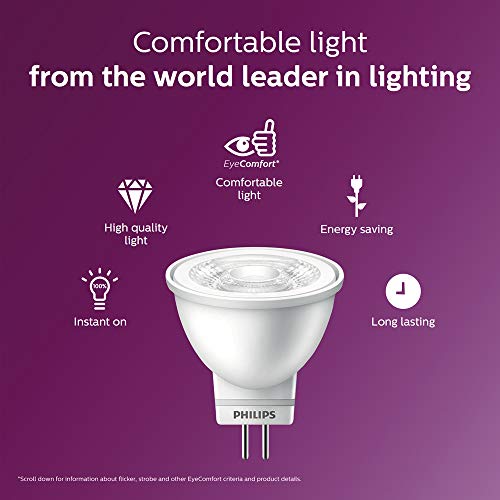 Pricey but very bright and reliable LED
Philips GU4 LEDs are a little pricey than the unknown brands, but let`s take a look what you get for your money?
These Philips LEDs turn on instantly at maximum brightness so you don`t have to wait for it which can be annoying, the light is also very bright but it will not fade fabrics or colors.
One more good thing about these are that they don`t flicker at all and they are mercury free so they are nature-friendly.
You can use these for outdoor landscape fixtures and indoor track lights. They provide a bright, white light and are perfect for illuminating pathways or walkways.
Features:
Approved only for use in enclosed luminaries
Non-Dimmable
220-Lumen
3000-Kelvin (20-Watt Equivalent)
GU4 Bi-Pin Base
Bright White
6 Pack
Pros
•Quality
•Does not get hot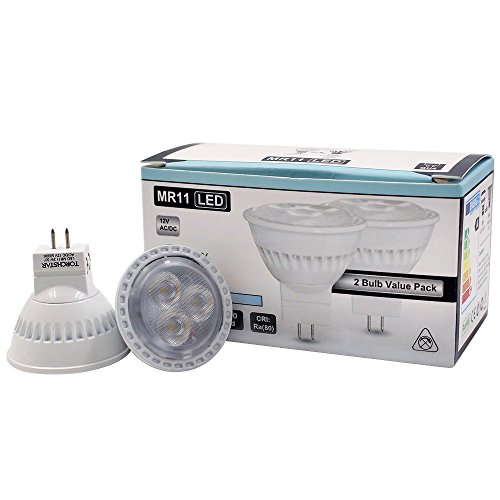 MR11 led landscape bulbs
If you want a really bright bulb you should check out the Torchstar 5000K Daylight Spotlight. It`s one of the Brightest MR11 LED bulbs. It delivers 240 Lumen, brightest in its class. It`s equivalent to 35 watt halogen light bulb with 80% less power consumption.
This bulb is available in: Warm white 2700K and Daylight 5000K.
The bulb is standard size, Φ35*39 mm and it`s a good replacement for traditional MR11 base halogen light bulbs. It`s also AC/DC compatible so you can use it with all types of power supplies.
I know how difficult it is to find a LED bulb that is really warm in color. Some bulbs have a really harsh color but these 2700k bulbs have a nice warm color. I`ve compared the light color side by side with a standard warm halogen bulb and the Torchstar is a perfect match.
It`s made of thermoplastic material, this LED light comes with an insulating body and a completely insulated power driver and the benefit of this design is that it protects users from electric shocks.
Thermoplastic material was not long ago introduced into the LED industry and has big advantages over traditional aluminum material. Its high radiation ratio enables it to dissipate heat quickly, which directly contributes to a longer and more stable service life.
If you going to use it with outdoor landscape light fixtures( these lights are compatible with Malibu style lights ), please make sure to protect this light bulb from water to ensure long lifespan.
Energy saving Gu4 led spot
Let`s take a look how much you save using LED vs. Halogen bulb.
Electric consumption of LED 3W LED bulb: 3W × 8Hrs × 365Days=8.76Kwh
Electric consumption of 35W halogen bulb: 35W× 8Hrs × 365Days=102.2Kwh
Gu4 halogen replacement
The energy that you save in a year per bulb is enormous when using LEDs vs Halogen.
Features Torchstar Daylight(5000K) :
12V 3W MR11 Bulb LED Spotlight
35W Halogen Equivalent
Bi Pin GU4 Base
30° Beam Angle
5000K Daylight 240lm for Recessed, Track Lighting, Accent Lighting for Home and Commercial
Features Torchstar Warm White(2700K) :
12V 3W MR11 LED Spotlight

35W Halogen Equivalent

Bi Pin GU4 Base

30° Beam Angle

2700K Warm White 200lm
Pros
•High Quality light color
•Does not get hot
•Super bright (5000K)
One important thing you should be aware of is that you should not use two bulbs in the same unit with this bulb. Why?
One positive feature of this Gu4 Led bulb by Rye is that it has good light color and the flood beam is 120°.
This Gu4 lamp bulb has no reflector, so basically it`s going to blind you if you look straight at it, so you should place it somewhere were the beam is directed away from your eyes or just don`t look at it.
Also it does not have any glass cover, so use it just indoors or in a weatherproof fixture.
Features:
Rye-Tech 3W MR11 GU4 LED Bulbs 12V AC/DC
25-30W Halogen Bulbs Equivalent
GU4 Base,
250lm
120° Flood Beam
Warm White 3000K
Pack of 4
Pros
•High Quality light color
•Does not get hot
•Price
Cons
•Non-dimmable
•The brightness can surprise you
•No cover glass
Conclusion
I know how hard it is to find an LED bulb that is perfect for your needs. Some are too bright, wrong color, too unnatural light or just cheap junk.
Picking GU4 LEDs out of the plethora available online can be tiresome, but I would give these bulbs green light. These bulbs work perfectly and are made of good quality materials.