You got a dimmer switch and now you wonder what's the best light bulb for your dimmer?
The bulb must be dimmable, energy-efficient, have a long lifespan, easy to install and have a clean light that creates a good light atmosphere in any room.
In this article, we'll help you find the best light bulb for your dimmer switch by exploring various options and discussing their benefits and drawbacks. We have personally tested a range of bulbs in different settings to provide you with firsthand experience and recommendations. With this information, you'll be better equipped to make an informed decision when choosing the right dimmable light bulb for your needs.
Read on why you don't want to buy a regular bulb if you keep your lights on for many hours every day.
If you don't have time to read the whole article I've put together a table with the best bulbs.
Best Light Bulbs for Dimmer Switches
| Bulb | Type | Check Price | Rating 1-5 |
| --- | --- | --- | --- |
| Amazon Basics Commercial Grade LED Light Bulb | LED, 40, 60, 75, 100-Watt Equivalent, A19 or A21, Soft White and Day White | $ | 4.3 |
| AmazonBasics Commercial Grade LED Light Bulb | LED, 90 or 120-Watt Equivalent, PAR38, Cool White or Soft White, Dimmable | $ | 4.4 |
| GE Lighting 40/A 120V 40-Watt A19, Soft White, 12-Pack | Incandescent, 40-Watt A19, Soft White, 12-Pack | $ | 3.7 |
|  GE Lighting 89623 | Energy Smart Spiral CFL 15-Watt (60-watt replacement) 900-Lumen T3 Spiral Light Bulb with Medium Base | $ | 4.0 |
If you're unsure which light bulbs you can use with your dimmer switch, this article is going to clear it for you.
 Do you need special bulbs for dimmers?
Yes, you need a dimmable bulb. But there are some exceptions.
If you don't use a
dimmable bulb
, you'll get problems like, buzzing noise, the bulb doesn't dim down enough, flickering which is very annoying and the bulb can burn out.
---
What light bulbs can you use with a dimmer switch?
Led bulbs:
Our top pick for LED dimmable bulbs is the AmazonBasics Commercial Grade LED Light Bulb. We have tested these bulbs in various rooms, and they consistently provide a clean, energy-efficient light that dims smoothly without flickering. Compared to other LED bulbs on the market, the AmazonBasics Commercial Grade LED bulbs have a longer lifespan and better compatibility with a wide range of dimmer switches, making them a worthwhile investment for those who frequently use their lights throughout the day.
It must be dimmable. Don't get the non-dimmable or you will get flickering and buzzing problems.
You should get commercial-grade bulbs because of the increased lifespan compared to the regular grade. You should spend the extra money on the commercial grade if you tend to leave the lights on all day.
This dimmable A19 led bulb is a top choice.
These LED A19 bulbs are designed as a direct replacement for your old incandescent light bulbs while consuming less power. These LED light bulbs use up to 90 percent less energy than their incandescent equivalents while producing the same lumen output.
The A19 size means that they fit in standard light bulb sockets. And the profile is a little bit smaller than in the old incandescent bulbs, which means they fit into most standard light fixtures. They come wrapped so that you can install it without touching the actual bulb.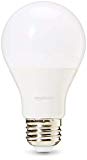 Amazon Basics Commercial Grade LED Light Bulb | 40, 60, 75 and 100-Watt Equivalent, A19 or A21, Soft White and Day White
These are also available in PAR38: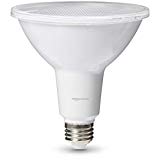 AmazonBasics Commercial Grade LED Light Bulb | 90 or 120-Watt Equivalent, PAR38, Cool White or Soft White, Dimmable, 6-Pack
You get way less power consumption than a traditional floodlight and just as bright. The light is a soft white, they give a spotlight effect in a ceiling or a flood light effect if used to an angled outdoors light. I've used them in motion detector floodlights.
Super easy to screw in, lightweight, sturdy, nothing to complain about.
But what about other bulb types which are the best dimmable?
While incandescent bulbs are generally compatible with any dimmer switch, their energy consumption and shorter lifespan make them less efficient compared to LED bulbs. However, they do provide a warm, inviting light that some users may prefer. If you're looking for the best dimmable incandescent bulb, we recommend the GE Lighting 13257 40-Watt A19 Soft White. We've found that these bulbs offer a reliable performance with dimmer switches and a pleasant light quality that enhances the ambiance of any room.
Best Dimmable Incandescents Bulbs:
Will work with any dimmer switch. This is because incandescent light bulbs will only burn out if you go over their maximum voltage, not if you stay under it.
In fact, running an incandescent light bulb at a lower voltage can even increase its lifespan.
Moving on to fluorescent bulbs, they can be a bit more complicated when it comes to dimming. However, some users may still prefer them due to their energy efficiency and unique light quality. Our top pick for the best dimmable fluorescent bulb is the GE Lighting 89623 Energy Smart Spiral CFL 15-Watt. We've tested these bulbs and found that they work well with compatible dimmer switches, offering a smooth dimming performance without any noticeable humming noise. Keep in mind that you'll need a compatible dimmer switch and a bulb with a dimmable ballast for the best results.
Best Dimmable Fluorescents Bulbs:
Are way more complicated. If you run a lower voltage current through a fluorescent bulb that isn't manufactured for dimming, your bulb will start to hum and then turn off, without ever dimming.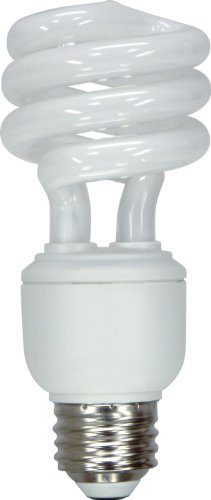 This bulb is good for ceiling fixtures. It can, of course, be used in other places too. I've used this bulb in ceiling fixtures and this bulb really lights up the whole room. The light is not greenish or bluish like some other fluorescents. The dimming feature works, but not as smoothly like in LEDs or incandescents but it does the job.
---
To dim fluorescent lights, you need two things:

First, you need a bulb with what is called a "dimmable ballast". It is going to say on the package if it has one.
And second, you need a dimmer that is compatible with your bulb. The main problem is that standard dimmers are not perfectly compatible with all dimmable fluorescents, even if the fluorescent says so on the package.
Instead, you are way better off getting a dimmer specially made for fluorescent lights or CFLs. These dimmer switches will say they are specially designed for fluorescent lights.
Leviton CFL Dimmer
Do I need a special dimmer for LED lights?
If you'd like your LED to be dimmable, you need to do one of two things: find LED bulbs compatible with traditional dimmers, or replace your current dimming switch with a leading-edge
(LED-compatible) dimmer.
---
Can I dim non-dimmable LED lights?
Yes and no.
I've tried to dim non-dimmable LEDs and some bulb types have dimmed down a little bit but not enough and they almost always flicker, so I don't recommend that. You should buy a dimmable bulb to get the best out of your dimmer.
In conclusion, when selecting the best dimmable light bulb for your dimmer switch, consider the type of bulb (LED, incandescent, or fluorescent), its compatibility with your dimmer, and the desired light quality. We have provided our top picks for each category based on our personal experience and research. Whichever option you choose, make sure to invest in a high-quality dimmable bulb and a compatible dimmer switch to enjoy a smooth, flicker-free dimming experience that enhances the ambiance of your space.