When buying LED color floodlights there is a couple of factors you must consider.
One important thing about flood-led lights is that they should be ip66 rated, it simply means that the fixture is strong, dustproof, and waterproof.
Second important thing is that the lights should have some type of memory function. The memory should have a speed color changing mode and a timer function that allows you to set the working time for example to 2 hours or 6 hours.
And lastly, this will make the installation much easier – The lamp body should be adjustable so you can easily install it on the ceiling, wall, ground, etc.
Color changing LED floodlights
1. COVOART Color Changing LED Landscape Lights

12W
Landscape Lighting
IP66 Waterproof LED
Garden, Pathway Lights, Walls, Trees, Outdoor Spotlights with Spike Stand
These 110V-240V AC to 12V transformer DC LED lights are ready to go out of the box, insert the 6-inch high-impact ABS plastic spike stand into the ground and plug them in and you got color-changing lights.
The light casing has a durable shell and the lens has a glass cover, it`s perfect for outdoor landscape lighting in different weather conditions.
The RF remote control is high-quality, and walls don't block its signal, unlike other budget-made remote controls.
The lights are very bright and colorful and they switch between red, blue, green, and purple. You can also control the speed of the color change.
The whole light set is about 46.5ft/14.2m long in total, so you got a good cord length to play around with.
These do not come with a built-in timer, though, that can be easily fixed with a plug timer.
Pros
•Super long cord
•Remote control
Cons
• The white color is somewhat bluish
---
2. Onforu 2 Pack

60W

Color LED Flood Lights for small yard and driveway
11 colors
2 modes
2x remote control
waterproof
60W
40
This Onfuru floodlight comes equipped with 11 colors and 2 modes fade and flash.
You will also get a handy remote control so you can easily control the lights from distance.
The memory function remembers your last color and mode when turning it on again.
The floodlights are well-made out of metal and should last for a long time. Just a note that these are really bright, the description labels them at 60watts, though I would say they are more in the 70watt range.
One thing I like about these lights is that they do not get hot, so if you decide to move them while they are on you`re not going to get burnt if you touch them.
Cons
•Remote control distance 20-26 feet
---
3. LED Flood Light

100W

Equivalent
Outdoor Color Changing Led Stage Landscape 100W Lighting
RGB Bluetooth Smart Floodlights
2700K
16 Million Colors
Timing
Music Sync
IP66 Waterproof
2-pack
2-year-warranty
This pair of color-led floodlights is controlled by your phone. You just download the "Happy Lighting" app on Google Play or iPhone app store. The setup is fast and easy, open your Bluetooth and enter the app to complete the pairing and you`re good to go.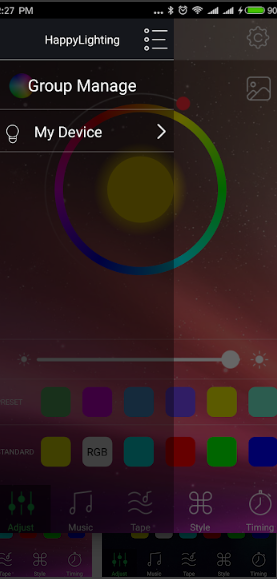 You don`t have to go out to control these lights, just use your phone, the range is about 65 feet.
One clever thing about these smart floodlights is that you can control the lights individually with the app. You can also name the lights individually or a group of lights in the app so you can control them super easily.
A feature that is not available in every floodlight is the color changing to the music mode. These lights change color to the rhythm of the music, it`s a feature that many think is unnecessary, but hey if you like it these lights have it.
Pros
•2 year warranty
•Individual and group control
Cons
•White light is brighter than the colored
---
Where to use your color LED floodlight?
The good thing about LED floodlights is that they all have IP65 ratings, meaning they're waterproof, so you can safely use them outside in all weather conditions.
So whether they're located by a swimming pool, parking lot, or a garden, they'll be safe to use all year long.
Here are some location ideas for floodlights: garden, patio, wedding, party, church, park, stage, landscape, building, yard, and street.
Recommended wattages for color floodlights
You need to consider a few things when deciding on the brightness of your floodlights.
Firstly, the location is essential. How much area needs to be lit up? Will you be interfering with your neighbor's property?
As with all LED lights, floodlight brightness is most accurately measured in lumens, rather than watts. For example, a 10-watt LED floodlight will give out the equivalent brightness of 900 lumens as a 60-watt halogen, but it'll use far less energy.
RGB flood-led lights are available from 6W to 100W and over.
When buying outdoor lighting, you don't want lights that are too bright or too dark.
If you pick something too bright, you'll suffer from glare and wind up with a yard that resembles either a prison yard or an opera house. If you choose something too dim, you'll lose the comfort and security benefits of outdoor lighting. When choosing wattage, keep in mind the particular needs and dimensions of the area you will light up.
High Wattages – 80 Watts and over
If you need to flood your lawn with bright light, pick bulbs with wattages of 80 or higher.
If you choose super bright lights with 100 watts or higher you should know that these are usually used for pedestrian areas, institutions, parking lots or roadways, but they are great if you really need to illuminate your garden to resemble daylight conditions.
Wattages – 40 to 80
If you got a small yard or driveway you will need a lighting fixture that contains 40 to 80-watt bulbs.
To stretch this level of wattage over a broad area, choose a model that mounts from a post, or install it from an arm extending from a high wall.
With these wattages, you'll still want to avoid installing the lights near to any home windows to avoid bothersome nighttime glare.
Low Wattages – 6 to 40 Watts
Using low wattage bulbs can decrease your energy consumption, reduce light pollution and target those areas you most want to be illuminated.
While your solar lighting options are very limited at higher wattages, you can very easily find a solar lamp at a low wattage.
To lighten a footpath or an outdoor seating area, stagger a group of low wattage lights to provide several small, overlapping rings of light.
For instance, a series of 18 or 20-watt bulbs provide lots of power to lighten a footpath, shine a light on a doorway or emphasize a flowerbed.
As with any kind of light source, direct the light to take full benefit of its wattage. In the example of a footpath lighting, as for overhead pole lighting, choose a lamp with an opaque cap to focus all light downward and avoid any loss or glare.
---
Related Posts