Last Updated on
Control every outlet easily with a switch and learn what is the biggest mistake people make when buying outlets controlled by a switch.
Top 5 Wireless Outlets Controlled by a Switch
Brand
Type
Check Price
Rating 1-5
BN-LINK

Wireless Remote Control Electrical Outlet Switch

100 ft. Range

2 remotes

5 outlets


$

4.6
Etekcity

Remote Control Outlet Kit

100 ft. Range

3 outlets

1 remote

$

4.5
X-Sense

Remote Control Outlet Wireless Light Switch

330 ft. Range

3 x Remote Control Outlet

1 x Remote

$

4.6
BESTTEN

Wireless Remote Control Socket Outlet Switch Set

110 ft. Range

Compact size

Black color

4 outlets 2 remotes

$

4.5
DEWENWILS

Wireless wall mounted switch

100 ft. range

No wiring needed

$

4.7
---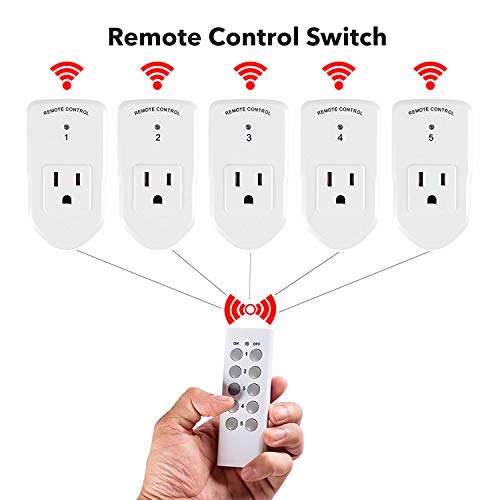 These little outlets are perfect for household appliances. It does not get easier than with BN-LINK outlets controlled by a switch. They are ready to go straight out of the package. Even the batteries for the remotes are included. The outlets are programmed so you just plug it in and switch on your appliance from the remote. Remember to switch on your appliance for the outlet to operate accurately.
The biggest mistake when buying remote outlets is weak signal quality
What`s more annoying than trying to turn the appliance on or off but you`re out of the signal's range.
These RF receivers and transmitters work through walls and doors without disturbing other electronics. The signal can function as far as 100 ft in line of sight.
2x Remote Control Transmitter

5x Programmable Outlet Receivers

2x Battery 12V

Ratings 125V, 60Mz, 10A, 1250W
Pros
Easy to install
Company's customer service is fast
 Ultra Long Range
Cons
Just available in one color(white)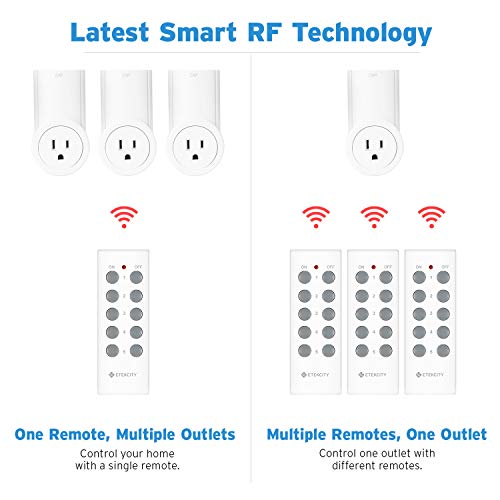 With a single Etekcity remote you can connect the remote to multiple outlets. TV, fan, lights, audio sound systems, Christmas lights and so on, so basically you can keep your whole home in control with only one remote. The package comes with two remotes for extra comfort.
The remote has five button combinations one to turn on and one to turn off.
The range of these remote outlets is impressive.
You can switch an outlet across three stories, they work through walls. You can operate these from one side of the house to the other side. There`s no delay, the response is nearly instantaneous.
Pros
Easy to install
2-year warranty and lifetime support
 Strong Range
The signal works through walls and doors
2 12V batteries included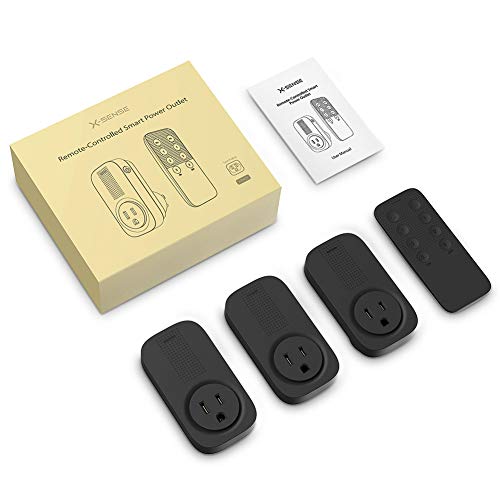 These X-Sense remote control outlets features a wireless control range of up to a impressive 330 ft, surpassing most of its competitors in the market.
The remote is user-friendly, the surface is dirtproof and the buttons are wear-resistant.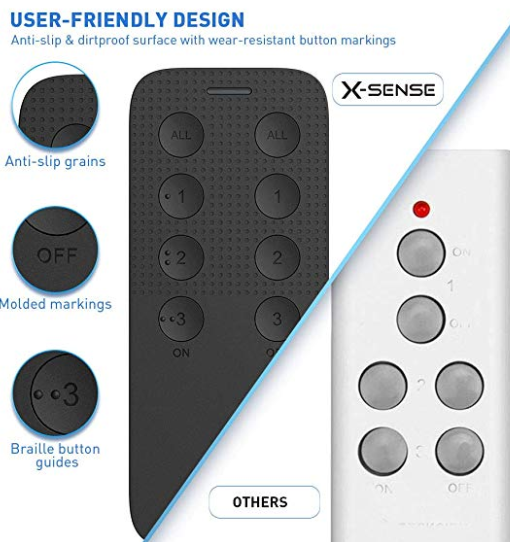 The signal quality between outlet and remote
This device does not need to be in direct line of sight. It works on a transmitted RF signal, not an infrared signal. Infrared signals can usually be blocked by being behind something, but this outlet will still work if it is behind something and like many other devices this does not have to be in a direct line with the outlet when using the remote.
Pros
3-year warranty and lifetime support
The best range on the market
Cons
Just available in black color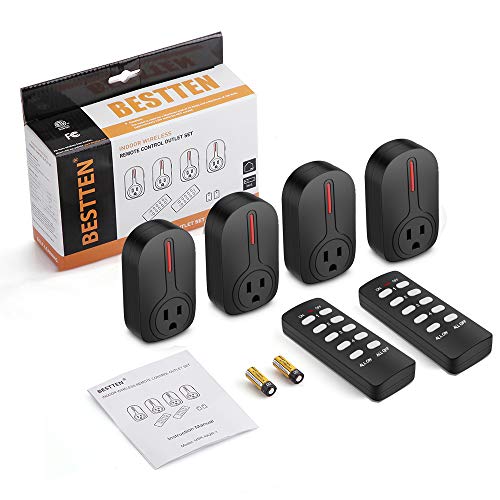 With the Bestten set you get 4 Electrical Outlets, 2 Remotes with 110 Foot Range, Learning Code, Home Automation Set and ETL Certified.
The best thing with these outlets is the size, they are so small that they will not block the other outlet on the duplex receptacle.
Pros
Small size
Two remote controls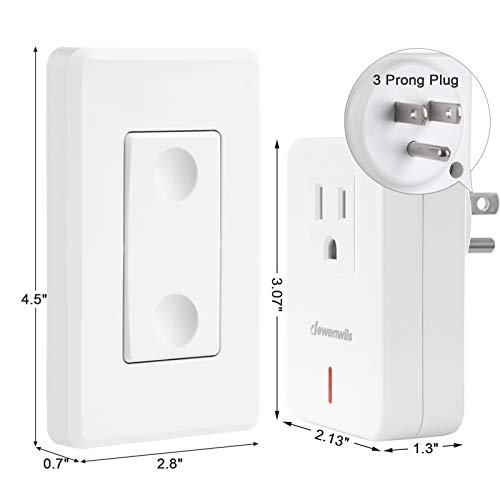 Wall Mounted Light Switch
Electrical Plug in On Off Power Switch for Lamp
No Wiring, Expandable
100 Feet RF Range
ETL Listed and FCC approved
Where to use the wireless wall-mounted light switch?
The wall-mounted light switch could be perfect for if you got lamps on your nightstand. If you aren't thrilled about reaching for the cord switch at night and maybe they are too far away to reach easily then this wall-mounted switch is perfect. You can put the wall-mounted switches where ever you want so that you can reach over with no problems and turn the lights on or off.