Last Updated on
Now before you go and invest in LED under cabinet lighting, there are some important things you should know about while you're planning:
What do you want to do with your room?
What kind of lighting do you want?
Do you want ambient lighting, task lighting, accent lighting, or a custom lighting?
Let`s go over the available light options and some important things you should know before you start buying:
---
BEST LED UNDER CABINET LIGHTING
---
How much does under cabinet lighting cost?
It`s going to depend on how many light fixtures you`re going to install, your location and are you going to you get a professional electrician or are going to do the work yourself.
If you are employing a professional electrician to wire in a single light fixture, including material and labor, it`s going to cost about $150 to $330 depending on your location. But if you pick the battery or plug-in powered lights, you can save money by installing it by yourself as a DIY project. If you choose the hardwired option it's usually a better idea to leave the work to an electrician.
Cost factors:
Hiring an electrician:  Licensed electricians can charge from $50-$100 an hour depending on experience level. But you can save money by doing the work yourself, but it is not a good idea if you are not used to working with electrical wiring.
How many light fixtures: Installing a large quantity of lights increases material costs. Although the cost per fixture perhaps is cheaper, as it is possible to take advantage of bulk purchase discounts and to arrange better price with an electrician.
Designer lights: If you pick high quality or designer lights it is going to increase your costs.
Type of Lights: Using simple lights that you screw in and then plug into an outlet or battery operated fixtures helps to keep costs down as you don't need to get a professional electrician.
Rewiring: Changing the arrangement of your home's electrical wiring requires a qualified electrician, and notably increases costs.
The Perfect Color Temperature For You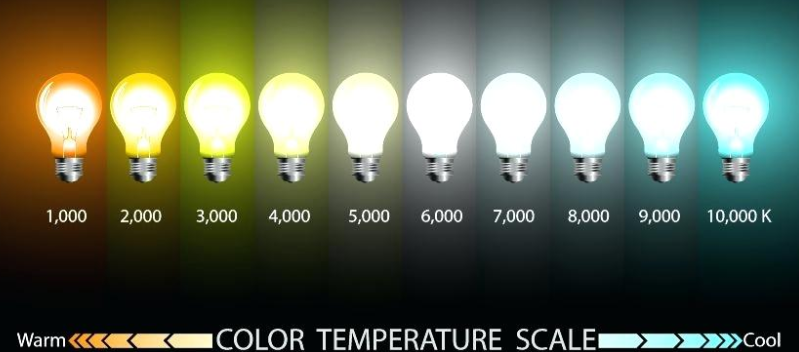 This is the most important thing about lighting. The color temperature of a light bulb will make it or break for the overall feel of a room. It should be selected very carefully based on what you use that space for.
Let`s go into detail – Take a kitchen for example, where you will be working with food and maybe cooking books, the best under cabinet lighting works as chore light. A good choice for kitchen is a cooler temperature and because it is brighter it make`s it easier for your eyes to see what you're doing. For that reason you should get 4200K or higher for your kitchen.
But if you are thinking about adding under cabinet lighting to the cabinets in your restroom or bathroom, you should go with a warmer and more softer light. A good choice is something close to the color temperature produced by normal incandescent bulbs, maybe 2800k or below.
What is the CRI spec on LED strips?
CRI or color rendering index is a scale of how precisely a light illuminates objects true colors.
CRI is a vital measure for LED strips when the appearance of items is important such as, retail, photography, under cabinet lighting, and architectural lighting.
Take a look at the pictures below with different CRI value led lights, that should make things easier to understand.


The led with higher CRI value produces a much more accurate light and items appear exactly as they would with natural lighting.
COUNTERTOP TYPE AND MATERIAL
The style and material of your countertop will influence the performance of your under cabinet lighting and can assist you to choose which type of lighting to pick:
If you have countertops with matte finish it`s going to reflect light more softly, and because of that it`s going to produce less glare, making it possible for you to choose a much wider range of under cabinet lighting options.
But if you have glossy countertops, such as granite, marble, slate or other type of stone material, it can make a lot of glare if the light is too bright. Your best choice is going to be lights with a much lower lumen value or a lens to help diffuse the light and decrease the amount of annoying reflection.
Light colored countertops reflect light and decrease the lumen value necessary to pull off a good lit under cabinet space.
Dark countertops are going to absorb much more of the light created by your under cabinet lighting. So you must pick a lighting source with a higher lumen value to make sure you are getting the right lighting volume.
Assembling and Installing Under Cupboard Lighting
The the best under cabinet lighting options and most common are surface and recessed-mount lights. Choosing between them is really a matter of personal taste and you really can`t go wrong with your choice.
Most available non-recessed surface mount lights are very thin and can be easily hidden, so you can be sure it will look great if you choose the non-recessed ones.
Anyhow, whether you pick the recessed or surface-mount light bulbs, there are just couple ways to install under cabinet lights and they are all pretty easy.
Important under cabinet lighting tip when installing
To avoid glare you should attach the light fixture to the front of the cabinet, just behind the frame and by doing this it helps angle the light toward the backsplash rather than out into the kitchen.
UNDER CABINET LIGHTING POWER SUPPLY
Battery
Plug-in
Hardwire
If you choose the plug-in or the battery-operated lights, the install is going to be a fast and easy do it yourself install.
Just consider that the if you choose the plug-in lights you must have access to an outlet.
And if you pick the battery-operated lights they must be easily reachable for you to once in a while switch out the batteries.
But if you choose the hardwired lights they will need to be installed by a professional electrician for your own safety.
Under cabinet lighting battery powered with remote control alternatives:
1. USB rechargeable under cabinet lighting
If you don`t want to use normal batteries, then there is the usb rechargeable under cabinet lighting option. They can usually be used with a standard micro USB cable plug-in to your laptop or pc and some models comes with a handy remote control.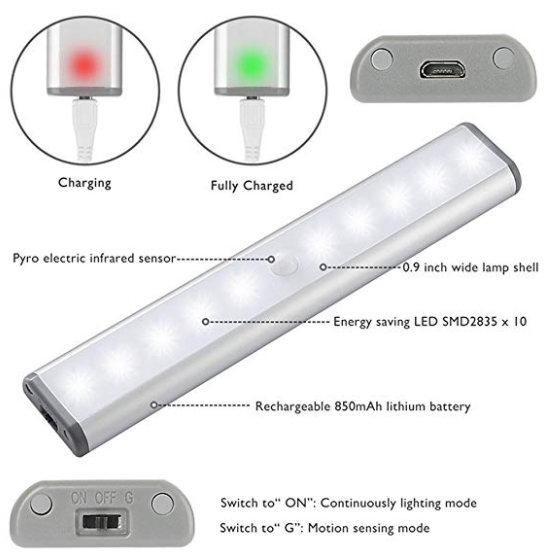 2. Under cabinet lighting with motion sensor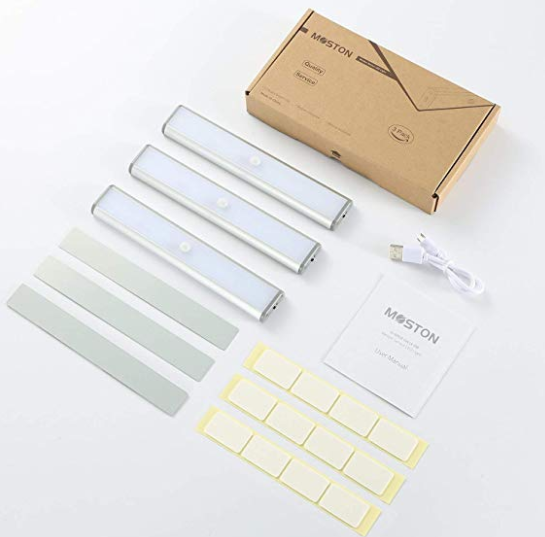 Under cabinet lighting bulb and replacement
You can choose from fluorescent, xenon, halogen and LED bulbs. Energy saving LED bulbs are often used and are a natural choice for under cabinet lighting especially in kitchens because they emit almost no heat at all, this in turn helps to keep you cool and comfortable while you are for example cooking. LEDs are also very good choice for bathrooms because they are super durable and can operate well in very high humidity that you often find in bathrooms.
The design of lamp you choose is as important as the type of light. It is going to influence the overall look of your room, it is going to dictate how much light you get, and how good the fixture will be hidden by the cabinets.
UNDER CABINET LIGHTING OPTIONS
1. PUCK LIGHTS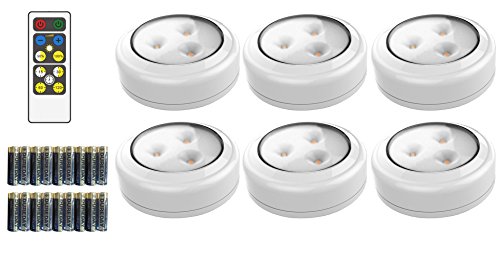 Puck lights is versatile round lighting solution. Puck lights is often used to light up the inside of cabinets or as under cabinet chore lighting, and they create nice pools of light on a kitchen countertop. And they can be used for illuminating inside display cabinets or even special home decorations. If you have a small space where you want light then because of their compact shape they are a good choice.
They can mounted on a surface or recess mounted into your chosen spot. Most of them are battery operated and because of that they are handy to install, you just stick them to the underside of your cabinet and they can be mounted easily with tape. But there are also other power source options available (hardwire, plug-in) both line and low voltage puck lights.
You can choose from LED, xenon, halogen and fluorescent light sources.
Xenon puck lights is going to give you the most accurate color rendering and the softest and warmest light.
If you are looking for perfect colors, or you favour warm light to go with warmer colored rooms like orange or red, xenon puck lights is the way to go. They are much cooler than halogen and because of that they are safer to be used inside of a cabinet or a display stand.
Halogen puck lights produce light that is little more cooler than xenon. You should also take into account that halogen lights actually run a lot hotter. Halogen puck lights color rendering is totally as precise as xenon lights.
LED puck lights is going to save you energy and they last the longest.
You are gonna have to pay more for them, but the energy you save by using them will ensure that the LED puck lighting pays for itself over time.
One more good thing about the LEDs are that they also come in a collection of color temperatures, so you can fit them perfectly to whatever paint colors or other light fixtures you previously have.
They are also super easy to install if you don`t have any power source in your install space and because of that the battery operated LEDs could be a smart choice. They also have a good battery life because the LEDs are very energy-efficient.
Low Voltage Puck Lights
Puck lights are also available in either 12 or 24 volts. Usually you can find both xenon and LED puck lights that are low voltage. The incoming voltage from an electrical outlet is normally 120 volts, so low voltage lights must have a transformer to supply the correct voltage to the lights.
Puck lights are perfect for:
Rental spaces
Small spaces
Spaces without access to a plug
Where hard wiring is out of the question, too expensive or difficult
Task lighting
Installation Tips Puck Lights
How far apart should you space your puck lights?
It depends on your particular puck lighting project.
If you want your puck lights to serve as under cabinet lighting, you must first measure the cavity underneath every cabinet – it is the area that forms a hollowed out space.
It`s recommended that you install one puck light every 5-10 inches by this you overlap beam angles and create an even light without pooling.But if you want your lights illuminating collectibles or maybe some other type of exhibition stand, you should go for one light per shelf or per decorative item to make it look nice.
2. TAPE LIGHTS OR LED STRIP LIGHTS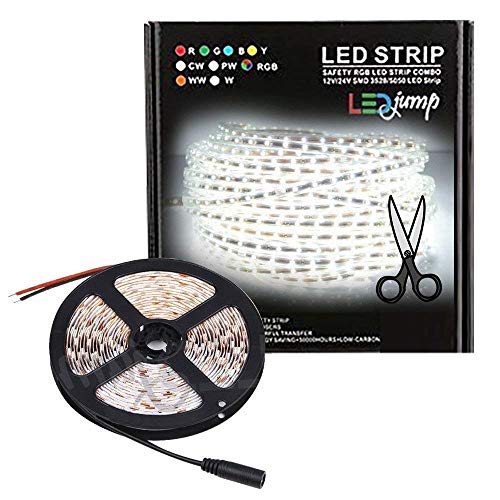 Tape lights are a perfect pick if you have a very shallow or flat under cabinet recess. They are a super fast and easy to install because of the peel and pick type adhesive and standard power plug. One more good thing about led strip lights is that they also stay cool, so you don`t get any unnecessary heat in your room.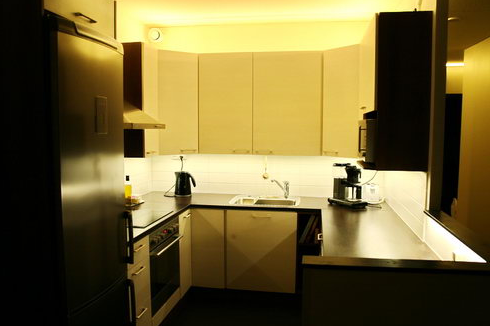 Dimmable Led Strip Lights and non dimmable
If you want a flexible solution to your lighting needs, you should check out flexible and low profile LED tape lights, a.k.a. as LED ribbon or LED strip lights. 
These exceptionally low profile LED lights can be taped anywhere with ease, and as if that weren't helpful enough, they can even be cut into sections to suit your exact dimensions!
Tape lights are exceptionally thin, almost flat, and flexible, making them easy to hide.
Tape lights can be taped almost anywhere with no trouble and fit into unusual spots or tight locations like under your countertops.
If you want they can be cut into sections to suit your needs.
There is one drawback: each 16 ft / 5 metre section requires its own plug, making them more complicated to use for long projects.
Tape lights are ideal for:
Unusually shaped or tight spaces
Shallow recesses, under countertops
Accent lighting
Smaller sections (16 ft / 5m or less)
Decorative accent lighting over kitchen cabinets
Halo lighting around a mirror
You should also consider these things to make sure you pick precisely the right LED tape light and the required components that will enable it to operate as you had planned.
What is the location for your tape light and how much will you need?
Power source?
Which color do you want?
Do you want it to be dimmable?
How are you going to mount it?
Want to control it remotely?
1. Where Will You Use Your Tape Light?
If you choose to install indoors in a dry spot, outdoors in a more wet location or in a damp location like bathroom? If so, you should check the manufacturers guidance to make sure the tape light is damp or wet location approved.
2. How Much Tape Light Do You Need?
It`s going to depend on the size of your project, you may just need one long length of strip light or several different lengths of tape that you connect together, depending on if you have obstacles between two sections or not. First thing you should do is measure and record the length of each part.
3. What kind of power source will you use for the tape light installation?
A low voltage tape light is going to need an LED driver to give power. An LED driver is going to convert AC line power 120V or 277V to the suitable DC voltage usually 12V DC or 24V DC or regulates the current most regularly 350 or 700 milliamps or for your strip light. You might also want a driver that is dimmable.
Hardwired – is wired directly to the electrical power circuit in your home or building and is controlled by a switch or a dimmer.
Plug-In – is connected to an LED driver which you plug into an electrical outlet. If your tape light requires you to buy a separate LED Driver, check to make sure you get the right voltage 12 or 24V  and that you have correctly estimated how much wattage you require.
Select an LED driver whose wattage is equal to or higher than the total wattage of the strip light being powered.
3. ROPE LIGHTS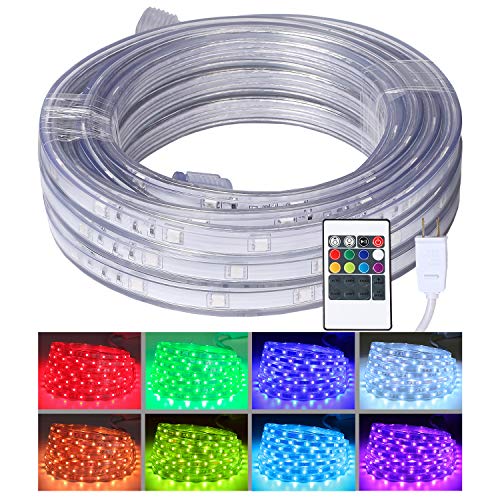 If you`re looking for something that is easy and fast to install then rope lights is something you should consider. Rope lights can also be easily removed if you want to change up things.

Installing led rope lights
Rope lights are easy to install, requiring a transformer and simple mounting clips.
They are not as thin as tape lights but they are however thin enough to stay concealed.
They are a little bit larger than strip lights and therefore cannot be bent at a 90 degree angle without damaging them. But they work good in rounded corners.
Rope lights are excellent for:
Accent lighting
Longer sections
Rental units
If you want to dim lights
Change light colors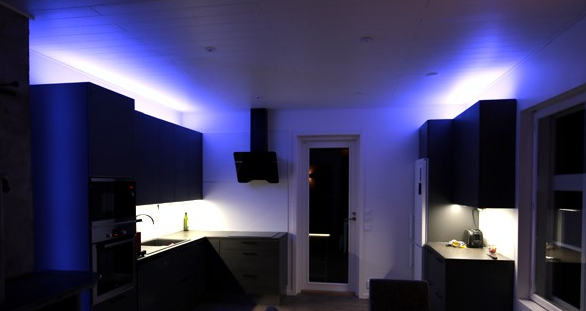 Are rope lights safe?
LED rope lights do produce a little bit of heat, but they will be "cool to contact" when installed correctly, incandescent rope lights can get very hot and you should not use them where they can be rubbed against, which may accidentally cause burns.
4. STRIP LAMPS
Under Cabinet LED Lighting Kit, Plug in,6 pcs 12 Inches Cabinet Light Strips, 31W by Litever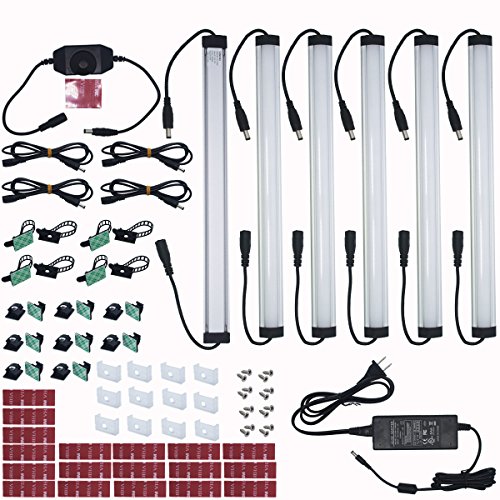 These lamps are perfect for if you plan to use your under cabinet light for task lighting.
They are larger than puck lights and brighter than tape and rope lights and you can pick from several different lengths.
Strip lamps are available in:
Incandescents
Fluorescents
LED
Buying Tips for Strip Lamps
Make sure to get connectable fixtures if you are planning to install lighting along the full length of your cabinetry. This way they can all power off a single outlet.
Striplamps are perfect for:
Rooms with bad lighting
Spaces that only have ambient lighting
Task lighting
Under cabinet lighting can uplift your home's lighting scheme from average to superb and it can add personality and character to your room.
And extra lighting makes working in your kitchen easier and safer, and it is normally possible to install the lights in a short timeframe without significant remodeling.
Summary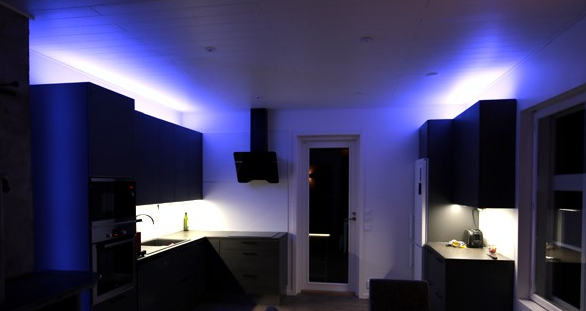 Article Name
Under Cabinet Lighting Tips
Description
Buying Guide For Kitchen Lights
Author
Publisher Name
Publisher Logo