The best dimmer switch for a Philips Led bulb is a dimmer switch especially made just for LED`s or in some cases a universal dimmer.
There`s also one dimmer type you should stay away from when you got Philips LEDs, read on to find out more.
Let`s go over the best options available for you.
Dimmer Switches for Philips Led`s
| Brand | Type | Check Price | Rating 1-5 |
| --- | --- | --- | --- |
| Lutron | C.L. Dimmer 150W | $ | 4.4 |
| Leviton | Universal 150W | $ | 4.1 |
| ENERLITES | Slide 150W | $ | 3.1 |
| Maxxima | Slide-Rocker 150W | $ | 4.0 |
| GE | Slide Dimmer Rocker Wall Switch 150W | $ | 3.1 |
| Legrant | Led Dimmer Switch for Philips LEDs. 0-10V for ballasts/drivers. | $ | No Rating |
| Insteon | Smart High Wattage(1000W) Dimmer Wall Switch, Dual-Band | $ | 3.9 |
| Baomain | Slide Dimmer For Dimmable Led Philips Bulbs 150W | $ | 3.0 |
| Eaton | 3-Way 300-Watt Dimmable Switch For Philips LEDs | $ | 3.9 |
| BESTTEN | Dimmer Light Switch, Universal Lighting Control 10-Pack150W | $ | 3.9 |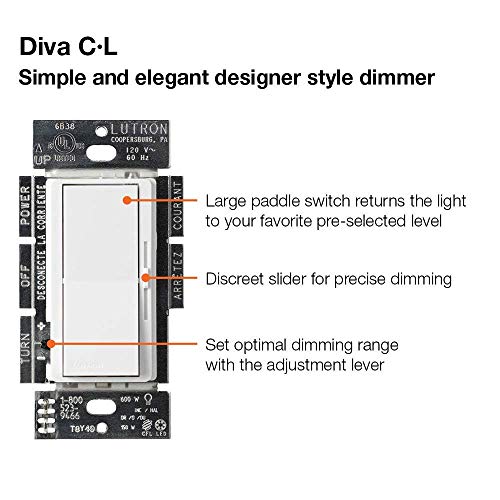 This also works with halogen and incandescent bulbs,
It come with a wallplate and is available Single-Pole or 3-Way, version.
You can load it with up to 150 Watts of dimmable Philips LEDs.
Available colors are white, almond, ivory, and light almond.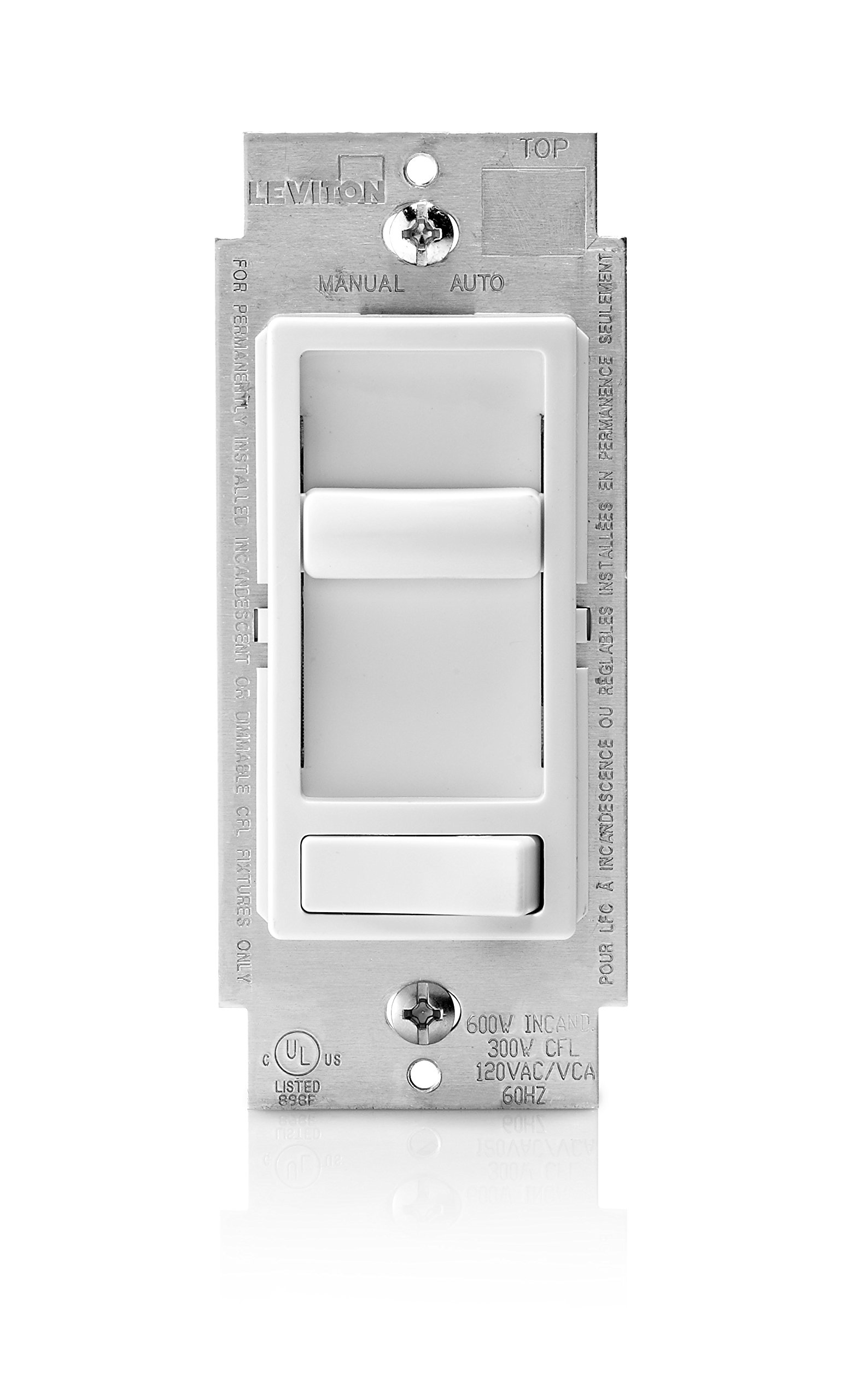 This is a universal dimmer for Philips LEDs. You can load it up with 150-Watt of LED Philips bulbs and because it`s a universal dimmer switch it can be used for 150W compact fluorescent (CFL) lamps or 600W incandescent and halogen bulbs.
Important
There have been some reports about flickering with this dimmer.
I have seen some flickering when I tried to turn the lights on from cold with the dimmer at the lowest dimming setting of the slide. If you experience flickering with this dimmer all you need to do is slide up the dimmer briefly and then you can immediately turn it back down to the minimum and the bulbs should stay on steady without any issues.
Pros
Noiseless
Color options
5-year product warranty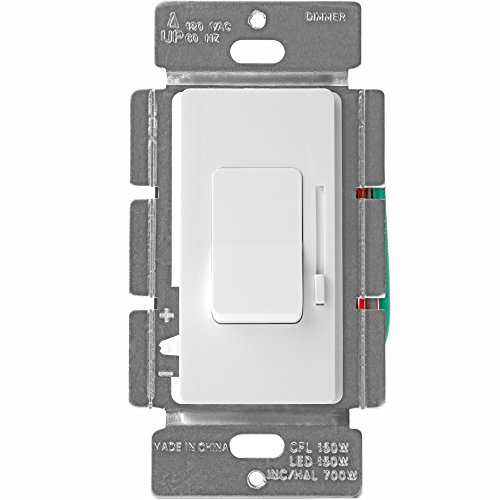 On/Off Rocker
Single-Pole or 3 Way
Neutral Wire Not Required
For 150W LED or CFL and 700W Incandescent Halogen
This dimmer switch will turn your Philips LEDs off and turn back on to wherever the slide dimmer is placed. If you turn the switch off at 50%, the switch will turn on at 50%.
Pros
Price
Does not require a neutral wire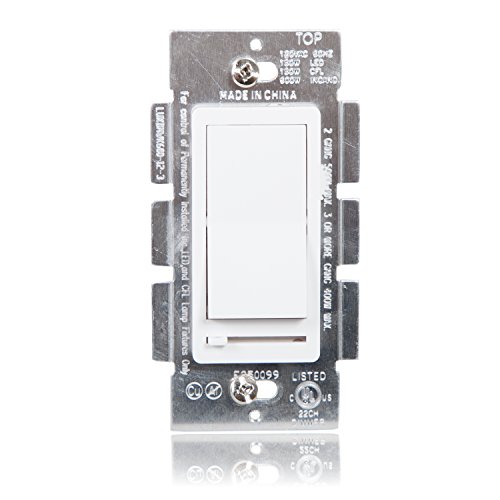 This is a single pole/3-way 150-W Philips LED-compatible dimmer switch.
It features a trim dial beneath the cover plate, you can't really see it in the pictures, but it`s on the right-hand side, which allows for sensitivity adjustment during installation to achieve the best dimming level with LED lamps.
You must adjust the trim dial before you put the faceplate on, just turn it on and adjust the dimmer all the way down. After that, you turn that little dial until it is as dim as you want the lowest setting to be.
You can easily turn your lights on and off using the rocker switch and automatically return to your previously selected light level of brightness.
Pros
Wall Plate and Mounting Screws Included
Black color available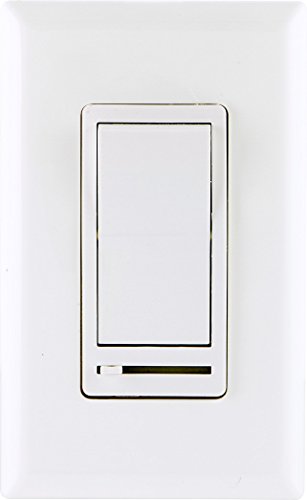 You can easily dim your Philips LED bulbs with this switch. The slider goes through a full range of dimming from extremely low light to full brightness.
The switch makes a tiny click sound when you push it on but it`s not too loud in my opinion. There are some that are totally silent like the Leviton and Lutron switches on this page.
Cons
Narrow dimming range
Shifty quality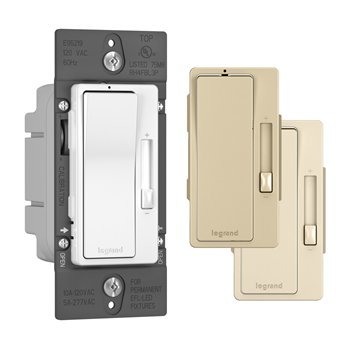 This is the new Legrand Tricolor, tricolor meaning that it comes with two additional covers in addition to the white and they are ivory and light almond.
This dimmer is a 0-10V dimmer and it is designed for 0-10V ballasts/drivers. If you do not have a 0-10V ballast this is not the dimmer you want.
This has a smart feature that the constant memory returns lights to the previous level after a power failure.
Pros
Location LED glowing when off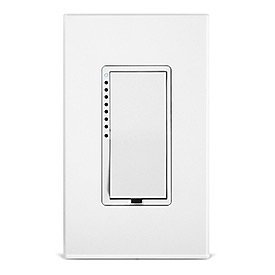 This is a High-Wattage Dimmer, you can load it up with 1000 Watts of Philips led bulbs and it installs like the traditional dimmer wall switch with the exception of requiring a connection to a neutral. Once installed, setup is quick and easy using simple programming.
If you add an Insteon Hub and Amazon Alexa you can use your voice to switch on the lights before getting out of bed or dim the lights from the couch to watch a movie—all without lifting a finger.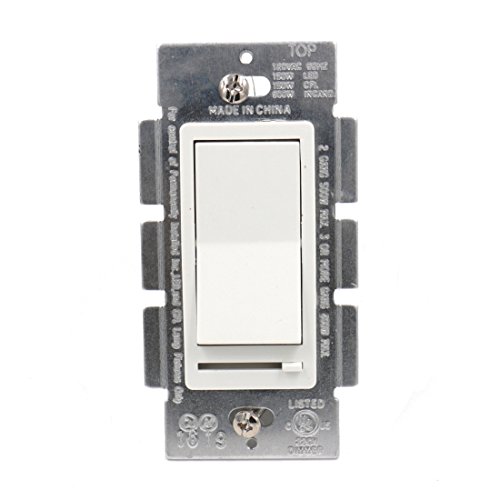 The Baomain is a wallet-friendly alternative to the more known brands.
Important
If you follow the instructions for a single pole in the package, you'll end up with a dimmer where Down is on and Up is off. But you can easily fix that, do this instead: switch the 2 red wires,  the red wire next to the black on the switch, and connect it to the black wire in the wall and that`s it.
Installation is very simple,  just like any other switch.
Just set the brightness and then use the on-off switch, which is large, when coming into or out of a room.
Cons
Click on/off is pretty loud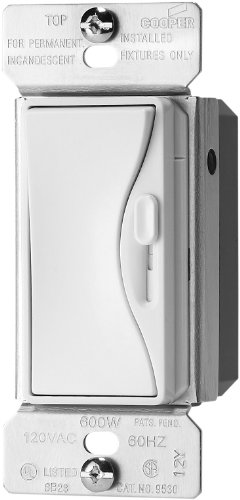 Eaton LED and CFL dimmer
No neutral required
120 Vac
Alpine white
300W
If you have many LEDs to dim then these dimmers can operate loads of up to 300W for LED/CFL.
This dimmer has a large slide tab that lets you easily adjust the light level and provides a visual indicator of the setting.
You can adjust the dimmer with or without the lights on.
Pros
Stylish
Many color options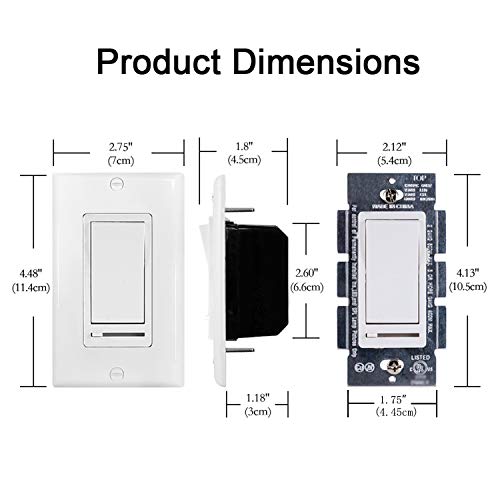 Single-Pole or 3-Way
Compatible with Dimmable Philips  LED Bulbs
CFL, Incandescent
Halogen Bulb
Decorative Wall Plate Included
UL Listed
White

Related Posts