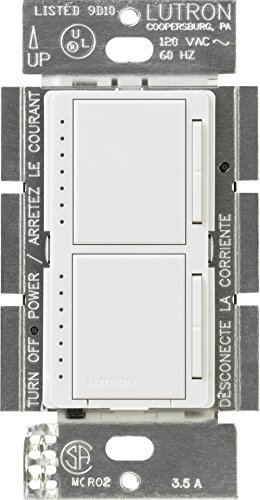 A Double dimmer switch or a Dual dimmer switch LED compatible is a switch that has two buttons in one control unit (stacked LED dimmer switch) and because of that compact design, it saves space. It is a good replacement for stacked switches that are usually found in bathrooms and kitchens.
You can use a dual dimmer for:
switch on and off lights
control your ceiling fan
dim lights
Don't want to change the switches by yourself? COST TO REPLACE SWITCHES AND OUTLETS (CHECK YOUR PRICE HERE)
Double Dimmer Switch Review – Top List 
---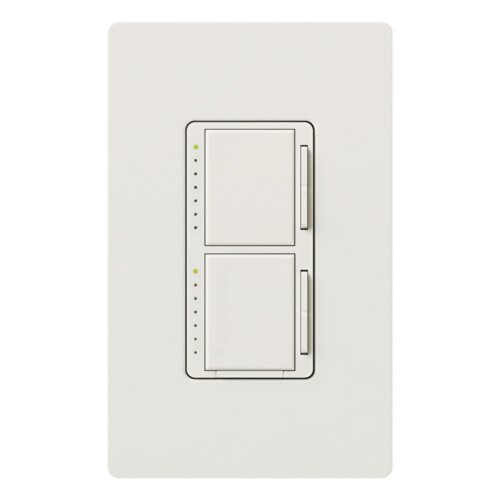 In this review, we'll take a look at the Lutron Maestro MA-L3L3-WH.
The Lutron Maestro is an excellent switch. In fact, you will see on Amazon.com that this dimmer is actually voted on to the bestseller list. We will be checking out why this is such a good switch, the type of light fixtures that this will work with, and also the good and bad facts so you can get a better feel for what to expect.
We will also be looking at the other customer opinions from people that actually bought the Maestro and who better to hear from if you are looking to buy it? So you'll get my personal experience and opinion –  plus the other customers too. If you have landed on this review and you are JUST looking to buy this device you can check out the Lutron Maestro MA-L3L3-WH at Amazon.
Double switch dimmer Lutron Maestro MA-L3L3-WH Review
So let's go over the full review of the switch and tell you what to expect.
Is this The Best Dual Dimmer Switch To Purchase?
Let us take a look at the different parts and we will zoom in on the parts that we think make a great switch.
Duo Dimmer Switch Review
This Maestro got two switches and the Maestro Dual dimmer is a perfect substitute for stacked switches usually found in bathrooms and kitchens. It integrates the task of two dimmers in one control but is still filled up with all of Maestro's smart features. This Maestro switch can be used with 300 Watts of halogen/ incandescent bulbs, if you have LED or CFL bulbs, please don't use this dimmer because it could cause your lights to flicker and hum.
Easy to operate light switch
It has an easy-to-control switch that you tap once on when you want to turn the lights on and off to your preferred light level and when you tap it twice the lights will go full-on.
If you want a delay when the light goes off, just press, hold and release the switch. This gives 10-60 seconds depending on how long you press/hold before the lights go off. A smart feature so you can leave the room or get into bed safely.
You can use the rocker to adjust the light level from dark to brightest. It also comes with Led's that glows in the dark so you don't have to guess where the control is when it's dark.
Customer feedback on the Lutron Maestro MA-L3L3-WH
Let's take a look at the customer feedback of the Maestro. This is going to give you a detailed picture of people who eventually bought this device and what they are thinking about it. You will get the good and the bad that people are saying.
Here is a summary of the good and bad of this Lutron Maestro based on customer opinions:
Overall Rating:
This device has an overall rating of 4.1 out of 5 stars so it is definitely above average and it makes it one of the best-rated dimmers on Amazon.
If you're looking for a switch that will give you good dimming capabilities and you don't mind the fact that it's mid-range priced then it's well worth a try!
I will also tell you about the overall good and bad below, so you get a better picture.
Good:
The main positive thing about this switch, based on the customer reviews is the cool feature that when the lights are on and you press in one or both switches, the lights are set to turn off on a timer. The longer you press the switch the longer the timer is set, it can be set up to 60 seconds. It can be a really good feature that you can use when you're leaving the house or a room.
Duo Switch is easy to install
Another good feature is the fact that the switch is very easy to wire up. If you're looking for something that is very easy to set up and something that you can easily operate, then this is definitely well worth a look.
Switch memory
The one tap on the switch that will remember your last lightning level also receives a lot of positive feedback.
This switch also has a small rectangular button on the left at the very bottom, but you have to take off the wall plate for this feature. If you pull out the button, it kills the power to the switch and fixtures that the switch controls. You can use this feature when you're changing bulbs in the fixture and when you're done you just simply push the button in again and your light fixture is powered up again.
Bad:
Someone received a used product. Well, that's not good, you should always send it back and get it replaced by a new one.
One customer bought it for dimming led lights and complained about not working correctly. This dimmer should only be used for halogen/ incandescent bulbs.
Conclusion:
The main thing to remember with the Lutron Maestro MA-L3L3-WH is that you will get a quality device for the price and you will not find one as cheap that has this quality feel to it.
Does NOT work with LED or CFL bulbs

For use with 300 Watts of incandescent/halogen bulbs only on both the top load and bottom load
The Lutron Maestro is equipped with enough features for most people and will give you everything that you need.
Overall this is a very good product but a bit pricey.
Click here to check out the Lutron Maestro MA-L3L3-WH at Amazon.com and see what customers have been saying about it!
Pros
•Smart features
•Sturdy
•Quiet
Cons
•Just for halogen/ incandescent
•Price
---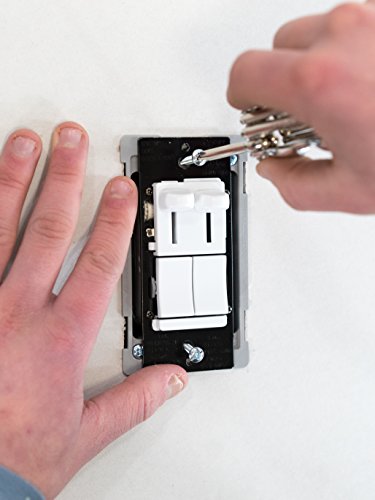 Pros
•Comes equipped with wired leads
•Smart power out memory
•The fan controller has three settings: hi, med, low and off
Cons
•Just for one light unit and fan
This is a great device for minimum Led light loads and by fine-tuning the small adjustment wheel slightly you will get your lights to dim perfectly without any flickering and humming.
Optional Locator Light
This dimmer does not come equipped with a locator/night light, but it has an option for a Snap-In Light Module (sold separately) for easy nighttime location.
Fan controller
You can choose between three fan speeds. The fan controller clicks into 4 settings: high, medium, low, and off.
Flicker-free
If you experience flickering with LED bulbs, you can fix that by adjusting it with the adjustment wheel, and that should take care of the problem.
Big dimming problems if you connect…
You should only use it for one light fixture and one fan, don't try to connect two light fixtures because the fan controller does not dim lights.
If you are looking for a cheap double dimmer switch, check out the Legrand – Pass & Seymour.
---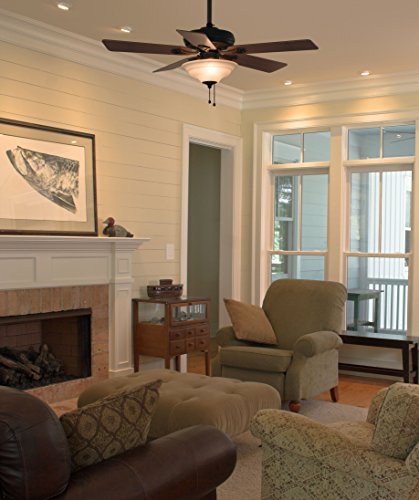 Pros
•Fan control delivers 4 silent fan speeds
•Gradually fading /full-on light that is programmable
•No neutral wire required
This MACL-LFQ-WH is a standalone light/fan control that does not have any wifi or Bluetooth communication abilities.
You can use this Maestro Fan Control to control most 3-speed ceiling fans (up to 1.5A).
If you don't want to leave the room in total darkness and trip over something, you can use the smart function that dims slowly down the light.

If you have a fan that has a pull cord you can leave the fan on the highest setting and easily control the fan with the switch.
---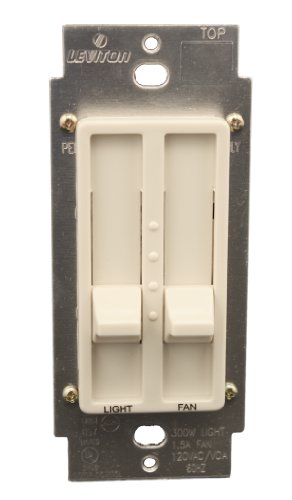 Are you having trouble finding a good dual control switch for a fan/light? Then you should take a look at the  Leviton 6630-T SureSlide.
This switch works great even with a LED fan light. I have installed a couple of different brands, that would flicker more often than not but this switch does not seem to have that problem the light has not flickered not even once. If you want a high-quality product then I think this switch is one of the best fan light combo units you can find.
The SureSlide feels very solid made like they are actually going to last and not break in a couple of months.
Wiring is super easy too.
Pros
•Easy setup
• Comes with a built-in TV/radio interference filter
Cons
•Sliders have 3 positions, Low, Medium, High
---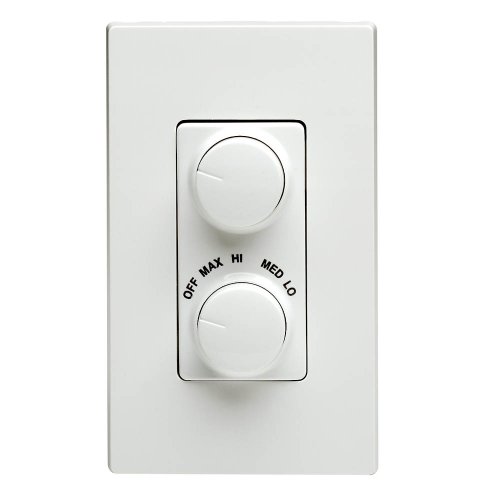 This dual fan speed control is perfect for ceiling fans with built-in light fixtures.
Features:
Rotary dial

Quiet 1.5 amp fan speed control

This device is compatible with Decora Plus screwless wallplates and Decora wallplates

4 smooth fan speeds – Low, Medium, High, and Max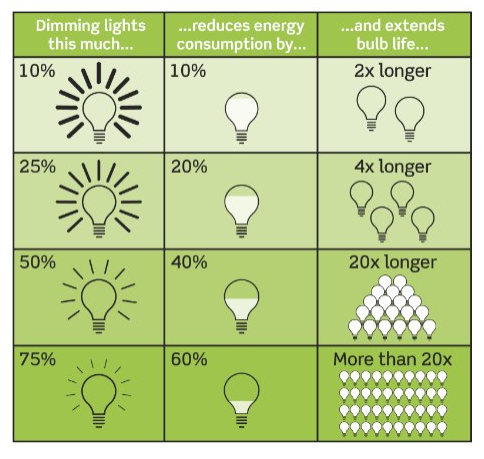 One important thing about fan controls you should know is that a fan speed control should never stop a ceiling fan at the low-end setting because if it does it can result in burnout of the motor. The low end of the control should be adjusted to make sure that the fan will spin even at the slowest setting. Some of the fan speed controls come pre-adjusted at the factory while other models must be manually adjusted during installation. So check the instructions to see if it requires adjusting.
Pros
•Fits in a standard size wall box – Easy to install
•Price
---
6.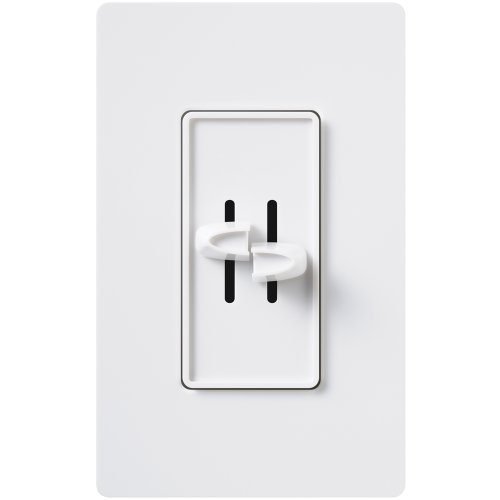 With this dual-led dimmer switch you can easily control two LEDs.
This dimmer is originally made for incandescent light bulbs, but I have successfully used it for two LED bulbs, so it's not a guarantee it will work perfectly for your LED bulbs. Some LED bulbs depending on the manufacturer won't dim down properly, some LED bulbs will go from approximately 30% to full shut off.
This dimmer allows you to dim two lighting circuits and it fits into a single gang wall box, thus no need for a second wall box.
It's available in seven different colors, each dimmer controls up to 300W and, it fits large designer wall plate openings.
Perfect for if you have two dimmable LED lights in your room.
Related Posts