Welcome to the Top 5 Best Dimmer Switch Reviews
In this analysis, I'm going to review the best dimmers that I have installed. After using these dimmer switches in my own home, I can share my first-hand experience with the ease of use, reliability, and overall satisfaction with their performance. I have taken into account the responsiveness of the dimmers, their ability to maintain consistent light levels, and their compatibility with various lighting setups. By the best I mean, easiest to install, control, usability, and of course quality. You don't want to buy and install something that you're not happy with. I have included the most used dimmer types and picked the best one from every group. So if you need a universal, low voltage, wireless, dual, or maybe a plug-in dimmer, you will find the review in this post.

---
Don't have time to read the whole review?
While some of you who visit my review page, want to know what I have to say about the reviewed dimmer switches, I fully understand that some of you are just simply looking for a high-quality dimmer switch. Maybe you even have a clear idea of what type of dimmer switch you need because you're replacing one? It could even be that you've done loads of research by now, but you haven't found the best dimmer yet.
I've added a table below, that will tell you everything you need to know.
Best Dimmer Switch – Top 5 Favorites
To help you better understand the differences between our top 5 picks, I've created a comparison table outlining the key features of each dimmer switch. This comparison will make it easier for you to decide which product best suits your needs and preferences.
---
Top Dimmer Switch Picks 2023
Lutron DVELV 300P Review  – 300-Watt Diva Electronic Low Voltage

Dimmer Switch

In this first review, we're going to take a look at the Lutron DVELV-300P  which is a very popular high-quality dimmer switch. It's designed to control Electronic Low Voltage transformers that are driving 12-volt or 24-volt Halogen lamps.
Have you ever wanted a trouble-free dimmer switch, you could trust to do the job?
Well, now you have it.
The Lutron Dvelv 300P dimmer brings together all the functions you want from a dimmer. It's durable, high quality, easy to install, and buzz-free.
Non-buzzing dimmer switch
Some of the older dimmers make a buzzing or humming sound, which can be annoying. The sound is created by cutting up the AC current traveling between the dimmer and the light bulb. Rather than dimming the light bulb, the dimmer switch actually causes the current to flicker super fast so that to our eyes, it seems that there is a smaller amount of light. The blocked current can make a vibration in the electromagnetic field inside the light bulb or inside the switch, which can produce a buzzing noise.
The Lutron Dvelv 300 P takes care of the buzzing, which can occur with some of the older dimmers. While the Lutron DVELV 300P is a top choice for a silent dimmer switch, it's important to note that it's specifically designed for electronic low-voltage applications. This means it may not be suitable for all lighting setups, and you'll need to ensure it's compatible with your specific lighting system before purchasing.So if you experiencing buzzing – This should be your choice, if you want a silent dimmer. In my own home, I've installed the Lutron DVELV 300P dimmer switch, and I can personally attest to its buzz-free operation. The installation process was straightforward, and it's been a reliable solution for controlling the brightness of my low-voltage lights without any humming or buzzing noises.
Check out what others are saying about the Lutron Dvelv 300P dimmer on amazon.
Features:
Smart big paddle switch and small smooth linear slide
Available in Single pole or 3-way model if the lights are controlled from more than one spot
For use with incandescent or halogen 120-Volt light bulbs. For electronic low-voltage applications.

The paddle switch turns the

light off and on to a preset level
This is an ELV (Electronic Low Voltage) dimmer used with low-voltage lighting fixtures
The discreet slider dims and brightens lights to the desired level
For use in single-pole Electronic Low-Voltage applications (available in 3-way

switch)

Color options Diva model: almond, black, brown, gray, ivory, light almond, and white
Soft locator light in off-position for easy finding in the dark
Dimensions 4.6 x 2.3 x 2.2 inches
Best low voltage dimmer switch?
There is really no other choice than the Lutron Dvelv 300P dimmer if you have low-voltage lighting that you want to dim.
---
Lutron MA L3S25 Review – WH Maestro 300 Watt Single-Pole Dual Dimmer and Switch

In this review, we will take a look at the Lutron Maestro 300-Watt Dual Dimmer and Switch.
What is a dual dimmer switch?
This is a dimmer that integrates both a single-pole switch at the bottom as well as a dimmer on top. This dual dimmer switch allows you to turn one light fixture on and off with the bottom switch and adjust the lighting level of another source with the top dimmer. This dual Dimmer Switch is a perfect replacement for piled switches commonly found in kitchens and bathrooms.
Two dimmers for the price of one?
With this dimmer, you get two controls in one, plus it's filled with all of Maestro's brilliant features. The super easy-to-use tap switch turns lights on/off to your preferred light level or tap twice for full lights. Press the switch, hold it between 1 – 6 seconds, and release the switch for delayed fade to off. The delayed fade to off gives you 10-60 seconds to get out of the room or get into bed before the lights go out, a very useful feature, and a real "toe saver". By using the rocker you can adjust the light level for any activity. LEDs display the level of light and glow softly in the dark, so you can easily locate the switch.
Dual Digital Fade Dimmer / Digital Switch
The dimmer works with incandescent and halogen bulbs, while the switch can be used to control incandescent, magnetic, or electronic low voltage, or non-dimmable fluorescent lighting loads or exhaust or ceiling fan loads.
At the touch of a button, this dimmer can go immediately to a favorite preset light level, fade-to-off, or adjust manually. Dual controls also consolidate light switches and save space.

 
If you want to see more reviews about the Lutron MA-L3S25, take a look here at the amazon reviews.
Features:
One switch gives dimming control for one load and on/off control for a second load

Memory – if there's a power failure – this dimmer remembers your own settings after a power failure

Built-in LEDs indicate light level – glow softly, so you can easily find the dimmer when it's dark

Use this dimmer only with incandescent and halogen bulbs

Delayed fade to off – very useful
No neutral wire required
Perfect for light and fan
Coordinating Claro wall plates purchased separately
For you DIYers, the switch comes with instructions and diagrams on how to install it. The installation is a simple project, if you have changed an outlet, you can handle this too.
The ultimate dual dimmer?
If you're looking for a reliable dual dimmer, the Lutron MA-L3S25 is a top pick.
---
Leviton 6674 P0W Review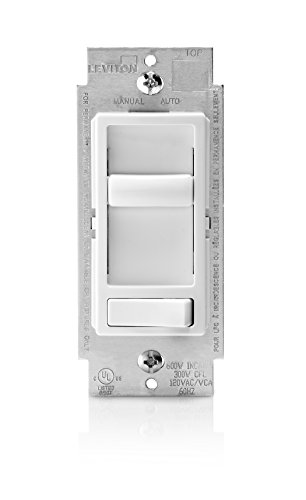 Sureslide saves energy without sacrificing performance
Let's take a look at the Leviton Decora SureSlide review.
These dimmers provide smooth, slide-action, full-range dimming for incandescent and dimmable LED and CFL lamps.
As many of you know an easy and cost-effective way to make your home more energy-efficient, is to replace standard light switches with dimmers.
Can't find a universal high-quality dimmer?
The challenge today is to find a dimmer, that works effectively with all the current varieties of bulbs on the market, Leviton has met that challenge and is pleased to introduce the new Leviton decore sure slide universal dimmer.
Incandescent, CFL, and led dimmer
This cutting-edge device expertly controls the dimming of incandescent, CFL, and LED bulbs, now that's a pretty smart dimmer.
Let's take a quick review of the types of bulbs you may choose for your fixtures. The standard incandescent bulb is most familiar because almost everyone's been using them for years. Newer to the market are compact fluorescent lamps, generally referred to as CFLs, and light-emitting diode bulbs generally referred to as LEDs. Added to the mix are dimmable CFLs and LEDs, which is what I'd like to focus on today since dimmable bulbs are compatible with the Universal dimmer.
Is Leviton sureslide 6674-P0 the best-led dimmer switch?
The Leviton sure slide was first available in 2012 and after installing it numerous times and getting just positive feedback from customers about it, I think it's a good choice for anyone who wants a good dimmer.
Smooth design and easy operating dimmer
The feature is easy to slide design and offers superior performance over standard dimmers. For example, this new device provides a seamless startup, so there's no momentary delay. With a better dimming range, they create the perfect ambiance for any occasion and are essentially future-proof, because they work beautifully with most of the latest CFL and LED bulb technologies on the market today. Plus the energy savings add up over time, making them friendly to both your wallet and the environment.
Read what other customers have to say about the Leviton sureslide 6674-P0 on amazon.
Features:
Leviton sureslide 1-pole and 3-way universal slide dimmer, LED, CFL, and incandescent, 120 volts

CFL mode for dimmable CFLs. This feature gives a higher starting voltage that is required for many Compact Fluorescent Lamps

LED/Incandescent mode gives perfect dimming for LED lamps and for incandescent lamps

Is equipped with a separate ON/OFF switch that maintains the selected brightness level
Built-in TV and radio interference filter
Gives you a bigger dimming range for dimmable LED and CFL bulbs than normal older incandescent dimmers
5-year product warranty
 Best pick for a LED dimmer switch?
If you're looking for a dimmer packed with the best features, the Leviton sureslide 6674-P0 is a high-quality choice.
---

The best Alexa and Google Home dimmer switch?
In this review, we will take a look at the GE In-wall smart switch dimmer, which allows you to control lighting and other devices wirelessly with an app. Now that everyone got mobile devices, this little switch is very useful.
Why should you get this GE Smart Dimmer Switch?
The benefit of smart lighting is pretty easy to understand. We have all left the lights on when we have not intended to, or forgotten to do the same when we had wanted to, leaving us coming home at the end of the day to a totally dark apartment or house. Smart lighting gives you the opportunity to schedule it all automatically or control everything remotely.
While installing the GE Cync Smart Dimmer Switch, I noticed that the setup process was straightforward, and the accompanying app provided clear instructions. I was able to connect it to my Wi-Fi network and control the lighting in my living room within minutes. This quick and seamless integration was a significant advantage of the GE Cync Smart Dimmer Switch over other products I have tried.
Make your home a smart home with the GE Smart Dimmer Switch
Connect and control lights and other household devices wirelessly from anywhere with your phone or tablet and give yourself the peace of mind that comes with knowing your home is secure, regardless of where you are.
GE CYNC is a fully customizable home automation system, that works by allowing you to connect through your Bluetooth and 2.4 GHz Wi-Fi Switch.
Maybe you want to read more reviews before you decide. Check out these comments from other customers on amazon.
Features:
Control wirelessly with an application on/off and dimming functions of lighting fixtures
Gives wireless and manual control of your lights
Schedule time events to perfect your home safety
In comparison to other smart dimmer switches in the market, such as the Philips Hue and TP-Link Kasa, the GE Cync Smart Dimmer Switch stands out due to its compatibility with both Alexa and Google Home, as well as its robust scheduling features. However, it is worth noting that the Philips Hue offers a more extensive range of color options and works seamlessly with the Hue ecosystem.
Best Wi-Fi smart dimmer?
After installing all sorts of wireless smart switches, I have come to the conclusion that the GE Cync Smart Dimmer Switch is a solid choice. It's reliable in quality and offers extra features not found on any other smart dimmer switch.
---
Lutron TT 300H Electronics Plug-In Dimmer Switch Review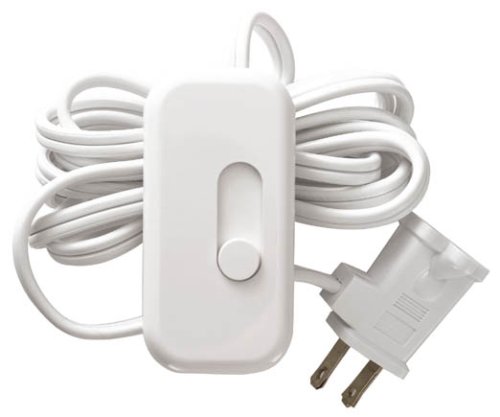 Well, then this plug-in dimmer is a great pick.
Dimming incandescent table lamps add comfort, usability, and workability. You can adjust the lights to every situation.
The installation of this Lutron TT 300 H is very simple, just plug in the dimmer, then plug your lamp plug into the dimmer and that's it.
You can pick from three different colors: white, brown, and black.
It's available with or without night light – The night light LED glows in the dark for easy access and as a soft night light.
Read more user experiences about the Lutron 300 TT H on amazon.
Features:
Slide-to-off tabletop dimmer

Dimmer for floor lamps, table lamps, and other portable lamps

Simply plugs into a standard outlet

Adjust the light to the desired level with an easy slider

Incandescent or halogen bulbs only – 300 watt

Put a dimmer on a tabletop for easy operation

120-volt halogen/incandescent bulb

 6-foot dimmer cord

Rubber feet on the bottom to keep it in place
While the Lutron TT 300H Plug-In Dimmer Switch offers an easy solution for dimming table lamps and other portable light sources, it is limited to incandescent and halogen bulbs with a maximum capacity of 300 watts. This may be a drawback for those who prefer energy-saving LED bulbs or have high-wattage lighting fixtures.
The Lutron TT 300 H is a good choice for a plug-in dimmer.
---
Summary
After installing the new or your first dimmer switch, it would be a good idea to save your electric bill for the next few months, so you can compare it to your old bill and see what has changed. Hopefully, will your electric bill have a nice big change for the positive and you may be motivated to try this project with the rest of your house and with even more positive results.
And most crucial of all, don't be shy to ask for a professional installer, meanwhile, they are not only worth the money but sometimes extremely important in making sure, that everything goes perfectly.
Thank you for reading my "Best Dimmer Switch Reviews – Complete Guide 2023", Dave.