I hope you will agree with me when I say:
That life is much easier when using a remote-controlled outdoor dimmer switch for your outdoor dimming purposes.
Do NOT Buy a Outdoor dimmer switch before You READ THIS REVIEW. I`ve spent a lot of money on useless products that did not deliver…but let`s get back to the review.
Ok, there is only a tiny little problem. Finding an outdoor dimmer is not an easy job, because there are not many outdoor dimmers made if you are looking for something similar to an indoor dimmer. But if you want to dim something outside, there are a couple of solutions for you. Let`s take a closer look at these products.
If you just want to turn off your lights remotely or have them turn off by a preset schedule then your choice should be an outdoor dimmer or remote-controlled outlet.
To make things easier for you, I have created a list of the Best outdoor dimmer switches for 2021. After doing some research, installing, and using some of these dimmers, I have listed the top outdoor dimmer switches and remote-controlled outlets you can get right now.
These outdoor dimmer switches are for everyone because the price-tag is pretty low on most of them.
Nevertheless, one thing can be said for certain, these outdoor dimmer switches are high quality enough to make it to our list of the best outdoor dimmers 2021.
Don't want to change the switches by yourself? COST TO REPLACE SWITCHES AND OUTLETS (CHECK YOUR PRICE HERE)
Best Outdoor Dimmers 2021
Works with Alexa and Google Assistant – Hazzle Free and Easy Installation
Outdoor Led Dimmer
If you want something easy to install and use take a look at this outdoor dimmer.
Installation is fast, get the Treat Life App, register, and push the button on the dimmer and until the light flashes and add your light source with the app.
Outdoor dimmer switch for led lights
This smart dimmer plug does not need to be connected to a difficult hub. You just simply plug in a device (light source) and you can control your outdoor smart plug via Treat Life APP directly from anywhere, as long as your phone access to a  2.4 GHz Wi-Fi network. And from the Treat Life App, you can then switch it on/off manually or create a timer function to have a schedule for your lights.
It works pretty much with any device as long as you stay within the output range: 50W LED, 150W CFL, 400W Incandescent.
This dimmer is only meant to be used with dimmable light bulbs, but I've used it with an outdoor fountain, it works perfectly and saves some energy too.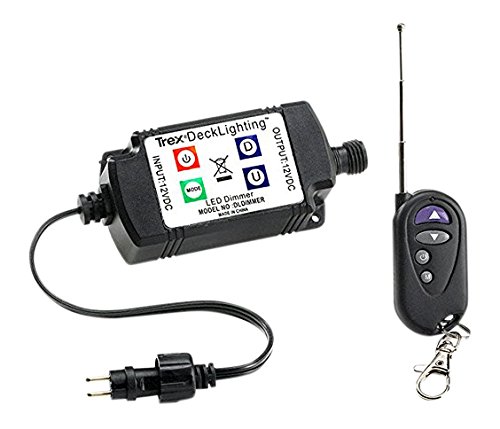 Outdoor dimmer for deck lighting and landscape lighting
This little handy Trex Remote Dimmer for outdoor use is an enhanced-control dimmer and is used to adjust the brightness of any  12v lighting system. You can install it in any new or old DC LED system. It can be located and used to control the whole light system or any piece of the system.
Landscape lighting dimmer switch
The dimmer should be installed after the transformer 12v output line. If you choose to install multiple units, you can control multiple lighting areas/zones according to your particular requirements with just one remote.
Pros
•Programmable remote
•Remote range 30 foot
•3-year warranty
•Easy to install even without instructions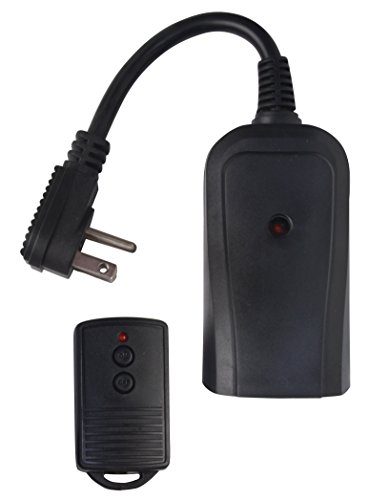 The Woods 32555 Outdoor Wireless Remote switches devices on and off from 60-feet away.
You can handle your outdoor lights, patio, security lights, or holiday lights from inside your home or even your car if you want to do that with the wireless remote and receiver.
The signal is pretty strong in this device, it can travel through walls, doors, windows and that`s a good feature and because of that, you don't have to always have eye contact with the device you're controlling.
Both the outlet box and remote operates on the same 'paired' frequency channel, so they don't cause trouble with other electronics.
If you are getting more than one unit, the frequencies you are getting will be non-specific with a possibility of matching frequencies.
How do you install and configure the outdoor dimmer switch?
Let`s take a look at the setup.
This remote device is fast to install, you don't need tools to set-up and it`s super easy to control just by a simple tap of a button.
Weatherproof outdoor switch
Features:
Durable weatherproof construction
6-inch cord
compatible with 3-wire plugs
CFL ready and LED compatible
Pros
•Great range
•Multi-use
•Price
•Easy to install even without instructions

This is a another smart device from General Electrics.
You can transform your home into a smart house/apartment using this compact Outdoor Smart Switch. This is almost the same product as the one reviewed first on this page, the GE Z-Wave Wireless Smart Lighting Control. This switch does not require any gateway, hub, or router to control or program your lighting.
With this smart device, you can control and schedule your outdoor lighting. It allows you to schedule and controls your home's outdoor lighting and devices, like landscaping and seasonal light fixtures.
The GE Bluetooth outdoor switch is or course equipped with weather-resistant housing and outlet cover.
Plus it comes with multiple scheduling options, such as the seven-day sunrise and sunset setting. It has also useful vacation/random settings and custom countdowns.
GE outdoor smart switch installation
The installation is as easy as it can be. You don't have to do any wiring, which makes it incredibly easy to install and use.
Pros
•Easy installation
•Versatile
•Price
•Easy to install even without instructions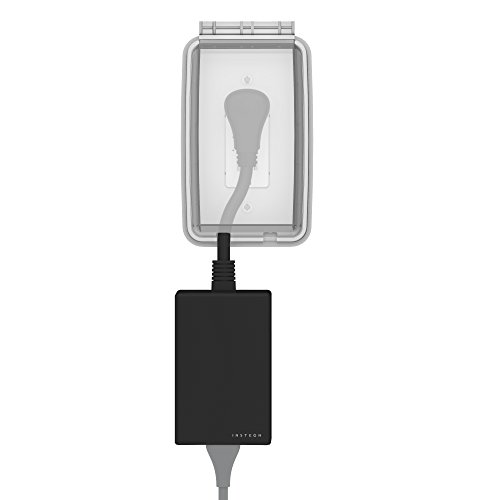 The Insteon smart on off plug is easy as Plugging in a Lamp
With this Insteon device you can control devices such as fountain pumps and landscape or holiday lighting.
Installation is super easy. Just unplug your fountain, string light, or landscape light and connect its power cord to the bottom of the Outdoor On/Off Module. Then you plug the Outdoor On/Off Module into the power outlet and then you`re ready to go, that`s it – No hardwiring or tricky installation, just plug it in, plug in the device you want to use/control, and link it to an Insteon controller – then just relax and enjoy the automated lighting.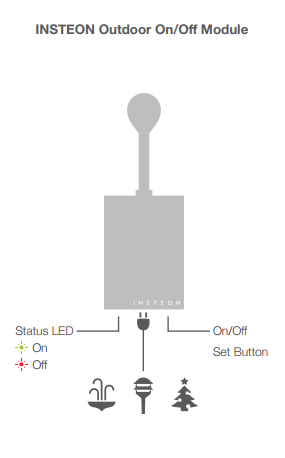 You can also schedule your outdoor lights or appliances
By using the Insteon Hub on your computer, or any other Insteon-compatible device, to turn on or off at any given time or even at sunset and sunrise.
Remote control your dimmer
With Insteon Hub, just launch the Insteon app and use the remote control from your smartphone or use the Insteon app to configure control from other Insteon devices at your place.
Voice control your dimmer
The Insteon Hub will also give you voice control using Amazon Alexa. Want to know more about Amazon Alexa? If you are planning on using the voice control, you must have the Insteon Central Controller Hub.
A cheap outdoor light switch
The more of these dual-band devices you got in your network, the better it will work. I have been using these to switch landscape lighting on/off and other outdoor lights. You can use it with a lot of different devices, it`s very versatile, just remember not to go over 1800W and you`ll be good.
If you want a reliable outdoor light dimmer switch you should take a look at this Insteon plug-in module.
Pros
•Amazon Alexa compatible
•Price
Wireless RF Smart Plug-in, Remote Control Dimming Controller – 200W Max Power/150FT Max Range/IP68 Waterproof/
Outdoor IP68 waterproof dimmer switch
I'm not much of web graphic guy, but I do know a quite of a lot about dimmers.  This year I've spent over 300 days on jobs installing and wiring electrical devices and tested over 15 different outdoor dimmers. Many of them sucked but some of them really fit the bill …like this Leclstar outdoor waterproof dimmer switch.
What can you do with the remote device?
You can turn on the Holiday Lights on a cold night (or warm)
Control Lights
Good helper for a person who is not convenient for action (elder, pregnant woman, or limited mobility person) at your home
150ft range
This dimmer is easy to hook up and the remote that comes with it is great. It offers so many settings as well as a timer and some buttons for your own custom settings. One thing that you should know is that the remote is very small and it can be hard to find it if you forgot where you put it.
A cheap outdoor light dimmer switch
The only thing that comes to my mind that is somewhat negative with this product is the length of the wire between the plug and the controller, it could be a little bit longer.
Pros
•Quality
•Price
•Range
•Dual outlet
•Battery included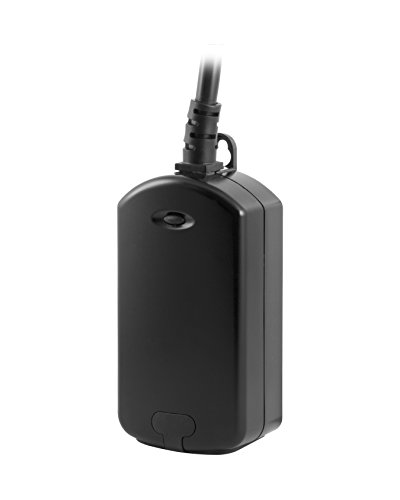 Most of the consumers know GE because of their top of the line home and kitchen appliances. However, for those who don't know, GE is also at the top for making several high ends, top of the line lightning appliances.
Outdoor Led Switch
The product we are going to zoom in on today is known as the GE Bluetooth Outdoor Smart Switch, the General Electric smart switch is priced under $40 and it happens to be one of the best outdoor led dimmer switches you can buy right now.
The outdoor dimmer switch offers a modern fresh look, something that people will find familiar, especially if they have used a GE product in the past. The switch is elegant pleasing with its complete black construction.
However, most of you are not here for the design and are more interested in the capability, so without wasting any more time, let's take a look at how the switch works.
Features
The GE Z-Wave Wireless is a Smart Lighting Outdoor Control that enables you to wirelessly control your home's outdoor appliances and lighting, including landscape and seasonal lighting, fountains, and pumps, it also gives you the opportunity to turn lights on and off or schedule a timed event from anywhere and at any given time.
You can easily control outdoor lighting with your computer or mobile device using any Z-Wave certified gateway from anywhere in the world, or control the lighting on location with the manual push-button control or a Z-Wave certified remote control. It can be a little tricky to set up for non-technical people, but if you follow the easy instructions it should go smoothly.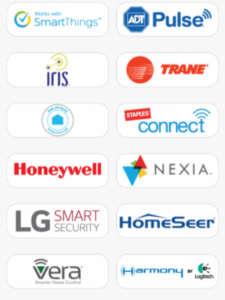 GE Z Wave dimmer switch compatible
With that said, the manufacturer has paid a notable amount of attention to detail even when designing the device as it happens to be super easy to use and understand.
The switch is also of course weather and impact resistant and it withstands wet and damp conditions. The outlet has a solid rubber cover that keeps dirt out when the smart switch is not in use.
Outdoor switch for led lights
You can use this GE device in outdoor locations to control and program patio string led lights or to maybe turn on/off a heating element in a pond, perfect for automatic watering systems and for example, outdoor kitchen lights and you can set it up easily through Smart Things home set-up and schedule your lights.
If you`re looking for an Outdoor dimmer switch for led lights that is reliable then you should take a look at this GE Z-wave product.
It`s compatible with:
CFL

LED

Incandescent

Fluorescent

Xenon

Halogen lighting

Wink
SmartThings
Pros
•Price
•Range
•Control with your voice
---
So, there you have it, folks! We tested some of the best outdoor dimmers and outlets available in the market at the moment. I hope these reviews helped you a little bit.
Related Posts