What is a 3-way dimmer switch and what does a three-way dimmer switch do?
With a three-way dimmer, you can control the light fixture with two switches. Using a normal single-pole dimmer, an alone switch controls the light. But when using a three–way dimmer, you can now control light fixtures with two switches. For this, you will need a three–way dimmer and a three–way switch. This gives you the ability to dim from one location and turn the lights off and on from another.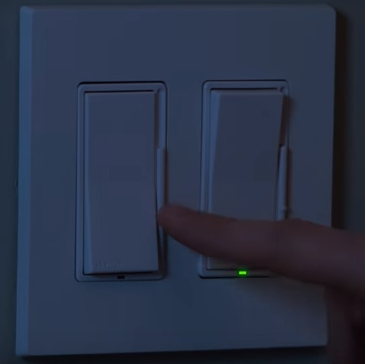 Best 3-Way Dimmer Switch – Top 6 List
---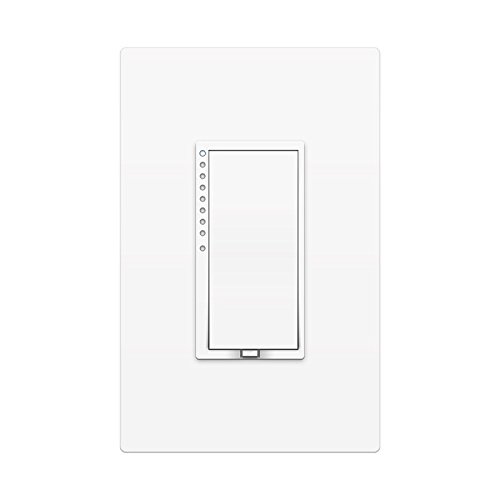 Halogen, Incandescent, LED Dimmer
Features:
Wall Switch Model
Works also with Alexa via Insteon Bridge
Uses Superior Dual-Mesh Wireless Technology for Unbeatable Reliability
Insteon 2477D can cut down your energy bills
A simple way to reduce energy consumption is by setting your dimmer to only turn on at, 80% whether turned on at the switch or through the app.
Delayed dimming
You can also set the speed at which the lights turn on and off, it can come in handy for peacefully waking you up in the morning or giving you time to see your way down a hall on your way to bed. You can select speeds from instant to 8 minutes.
Voice control your lights for comfort
If you get an Insteon Hub and Amazon Echo you can use your voice to switch on and off the lights. This feature can make life a little bit easier for example: turn on the lights before getting out of bed or dim the lights from the sofa to watch a movie.
Communication
Insteon utilizes a patented dual-band mesh technology that communicates over both existing power lines and a wireless radio for unparalleled reliability.
Another good thing about Insteon is that the more Insteon devices you got, the more fail-safe they all become because of the dual-band mesh network they use.
Super easy to add an extra switch
With normal wall switches, control from multiple locations, like in a long hallway, requires special dedicated wiring. It`s great if you're building a brand new, but difficult to retrofit. With this Insteon device, every wall switch can operate every other wall switch, with no extra wires needed. You just tap a few times on the set button and you've made a 3-way switch. If you want to add another? Make it a 4-way – or 5-way switch.
Pros
•Warranty 2 years
•Easy setup
•Consider the Insteon Hub for maximum features
Cons
•The manual that comes with the switch is not that great I suggest downloading the full manual from Insteon
•Don`t buy a used device (used smart switches can cause problems for a new user)
•Some reports of problems with led light dimming( make sure the led is dimmable)
The indicator lights on the front are very bright too, some like it and others don`t.
Overall, the Insteon 2477D is a good basic dimmer. The features are good, easy to use and the design is very stylish. Another good thing about this smart dimmer is the low price.
---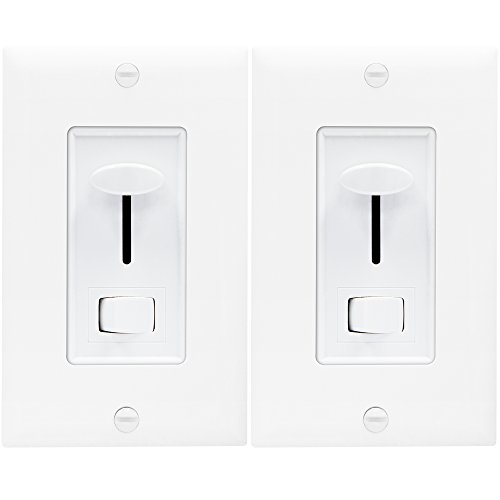 3-Way Dimmer for Dimmable CFL, LED, Incandescent, Halogen Lights.
Features:
The ON/OFF switch remembers your latest dimmer setting and turns on the light to that dimmed level again

150-Watt Dimmable CFL and LED Bulbs
700-Watt Incandescent/ Halogen Bulbs
The small size makes this dimmer easy to install
This dimmer is not very deep if compare to other dimmers and therefore you got plenty of room for the wires and wire nuts to fit behind the dimmer.
Also, the simple instructions and easy layout of the switch allow even the newest DIY'er to install this 3-way dimmable switch.
The adjustable wheel on the side is a smart feature of this device. The micro-adjustment turning wheel allows you to use full-range dimming control on any bulb type to avoid flickering lights.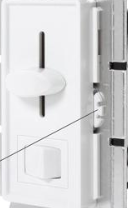 Pros
•Price
•Easy setup
•Micro-adjustment turning wheel
Cons
•Some reports of weird instructions
•Flickers if not used with the right type of bulbs
This is a high-quality LED 3-way dimmer switch for a low price.
---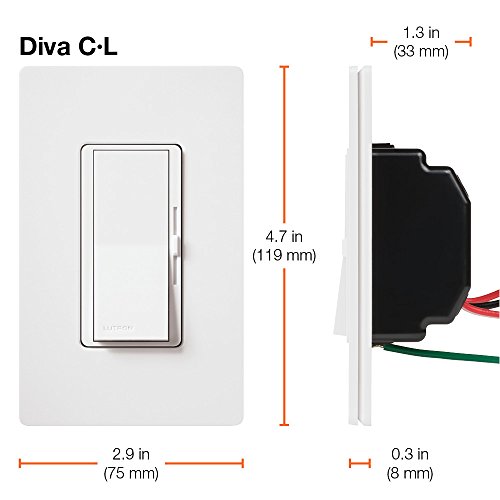 Lutron 3 way dimmer
The Lutron story began in the late 1950s and the Lutron Diva is a perfect example of the latest energy-saving technology used in a dimmer.
Features:
Works with almost all dimmable CFL/LED bulbs, as well as incandescent and halogen bulb
You can load it up with CFLs and LEDs up to 150 watts
If you prefer Incandescent or Halogen bulbs you can use up to 600-Watts

Includes coordinating wall plate
Do you have doubts about performance? This device is backed up with HED Technology. Let`s take a closer look at what the Hed tech is.
What does Lutron's HED technology do? This dimmer actually boosts the performance of dimmable CFLs and LEDs compared to normal dimmers by excluding flicker, making sure lights stay on when they are dimmed to a very low level, and making sure lights function properly at all levels. Lights will stay on even during voltage fluctuations, which can happen when a device like a hairdryer or an air conditioner is operated nearby.
Mixing CFL and LED lights?
Do you have a CFL and LED combo of bulbs? Well, then this dimmer is the solution for you. This Lutron device is compatible with other light bulbs and mixed loads, so a combo of CFL, LED, halogen, and incandescent bulbs can be easily used on the same circuit. It can be used for single-pole and three-way applications.
Dimmer switch not dimming all the way?
For your convenience, this dimmer also gives you full range of dimming for halogen and incandescent bulbs. There is a smart adjustment dial to set the low end of the dimming range for your bulb choice for the most efficient operation.
Lutron Diva Brown 3-way dimmer switch – Black 3-way dimmer switch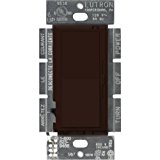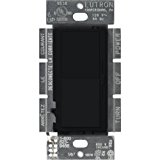 If you are looking for a brown 3 way dimmer switch or some other color, Leviton got you covered, you can choose from 27 different colors.
Is Lutron Diva the best 3 way dimmer switch for led lights?
Well if you appreciate the following features, then maybe it is.
•No flickering
•Noise free buzz-free
•Dims down to an extremely low light level
•Works great with mixed-led bulbs
•Full range dimming
So if you have been having problems when dimming down to a very low level and as the dimming got low the bulbs would go out. Or maybe you have flickering issues or occasionally the bulb would not even come on. Many also complain about buzzing dimmers. Put this in and it works flawlessly.
Pros
•HED Technology
•Flicker free
•No delay in dimming
• Wall plate included
Cons
•Warranty 1 year
•No locator lights
---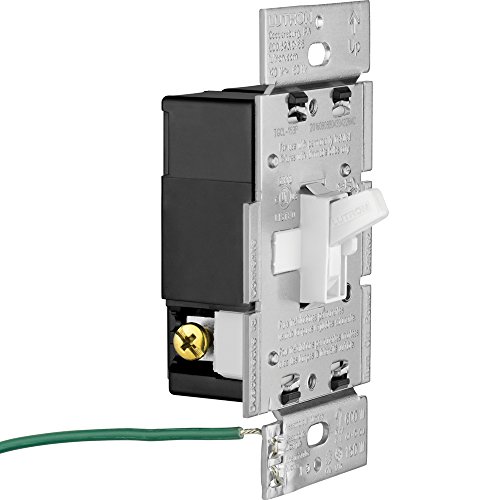 3 way toggle dimmer switch features:
You can use it with up to 150-Watts of dimmable LED bulbs

If you prefer

Incandescent or Halogen bulbs this can handle

up to 600-Watts of those bulb types
Easy to install and use
This 3-way toggle dimmer is very easy to use, the toggle switch turns your lights on/off and returns light to a preset level, and with the small slider beside the toggle, you can select your choice of brightness. It also has a dimming range adjustment dial because many dimmable CFLs and some dimmable LEDs do need adjustment for the best function.
Installation tips: If you`re going to sand drywall you should not install the dimmer before because dimmers don`t like dust.
You can use different watt light bulbs and mix different types of bulbs
This dimmer can dim a mixed load of light bulbs (i.e. LED and halogen or CFL and LED bulbs on the same power circuit).
Are you replacing an old switch? You can use an existing 3 switch plate to install this toggle dimmer, this switch will fit in a standard switch plate opening.
The instructions that come with the switch are methodical and will walk you through how to wire it for each type of electric circuit.
One important notice: This switch is marked to be installed with the dimmer slide to the right of the on/off toggle, so the off position is on top.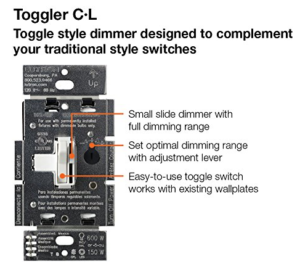 Pros
•Dimming range
•Easy setup
Cons
•Warranty 1 year
• Little pricey
---
Let`s take a closer look at the Leviton 3-way dimmer and what it can do.
3-way dimmer switch for led lights and CFLs
Decora Universal Rocker Slide Dimmer, 300-Watt LED and CFL/600-Watt Incandescent
Features:
Planned for high-quality performance with dimmable LED and CFL bulbs

Works also with all incandescent and halogen bulbs

The rocker switch is newly designed for quieter and gentle-touch switching

It comes in White, but you also get the Ivory and Light Almond color change kits
Important:
If you have an issue with your LED remaining slightly on when the switch is in the off position you should do this: When you got the locator light in the ON position, a very small amount of current is passed through the LED bulb. And if you got very sensitive LED bulbs it may appear to glow from this current. Try to fix this – just turn the locator light to the OFF position.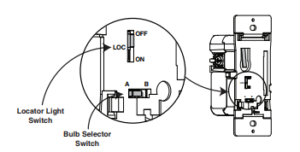 One smart feature of this device is that you can program this dimmer's minimum brightness. If you have issues with your lamp setting output, say for example that your bulb shuts off 3/4 of the way down, you can try to fix this by adjusting the minimum level to 0.
This Leviton device is very slim and the compact housing fits easily into a standard wall box.
Pros
•Price
•Easy setup
•Locator Light
•Bulb selector switch
•Fits in a standard wall box
---
Light Wifi Switch Works with Alexa and Google Home
Schedule Timer
Neutral Wire Required
Single-Pole and 3-Way Installation
No Hub Required
ETL and FCC listed (2-Pack)
The set up is easy once installed in the wall switch gang box. You just turn the breaker back on and the switch works manually. And from there open the Smart Life app on your phone or tablet and add it as a switch with your Wi-Fi information, name the switch, make sure you have the Smart Life skill turned on for Alexa and search for the device and you immediately have voice control.
If you got installation questions about the product you can email them. I`ve emailed them and the replies always come back within 24 hours.
Pros
•Scene control
•Time schedule
•Locator Light
•Remote and voice control from anywhere
Cons
•Instructions for newbies
---
Related Posts